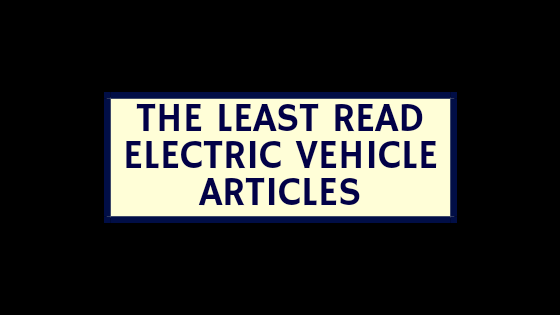 Here is the second update for the least read articles on getelectricvehicle.com. We publish this post in every 6 months to let you know which are the articles on our blog that weren't accepted by the readers.
In another word, the least read articles.
The Updates
First of all, we have published the first version of the least read articles and then we updated the posts and followed some procedures to get more viewers to the posts.
Those are listed out here in the 1st update of the post.
Let's have a look at what we had done later on to improve the readership of the posts
#1 Added videos to post
This was the major step that we followed to improve the user experience and hold the reader more time on our blog.
We are adding YouTube videos the posts one by one to help the readers to have more value from the posts. You may watch and follow the interesting videos about the electric vehicles from our channel : GetElectricVehicle
In addition to this, the links to the posts were shared on the description of the YouTube videos. It drove more traffic to the posts form YouTube.
#2 Stated to share the posts on social media platforms
we have started to share the complete posts on social media to help out the readers. Even though they are not visiting our blog to read the post they get an opportunity to read them from Facebook, LinkedIn, Reddit, etc.
Once the post is indexed by google, we share the same post directly on the Facebook page. We used to avoid the external links on the post on facebook.
It helps out us to gain more page followers and ultimately we got traffic to our blog.
#3 Internal links
We added links to the least read articles from the relevant most read articles so that a portion of the readers read the article clicking on the links!
Internal links do have more importance in the search engine optimization. It adds up the user experience as well. We always try to add links to the old posts from the new posts.
Try to link the new posts from the old posts as well if you are a blogger. We did it and it worked.
List of the least read articles on GetElectricVehicles.com
Here are the 15 least read articles on our blog. Just have a look at those posts and let us know what your thoughts are.
A few posts got more views after we implemented the tactics that we explained above.
The news round-up posts and the latest posts are not considered for the ranking.
Conclusion
This is the second update of the least read articles on getelectricvehicle. You may check out the posts and let us know what do you think of.
Don't forget to share the post with your friends and follow us on Facebook, LinkedIn, Twitter, Instagram, and YouTube!