Etergo is an Original Equipment manufactures based in Amsterdam who designed the premium scooter 'AppScooter'. Ola is stepping to the electric scooter market acquiring the Etergo to manufacture electric scooter by 2021.
Ola has one electric vehicle wing name Ola Electric Mobility Pvt. Ltd. Let's check out the Etergo's Electric Scooter and Ola's plans.
Etergo and its Electric Scooter – 'AppScooter'
Etergo was founded in 2014 and it revealed an all-electric scooter concept named 'AppScooter' in 2018. Their plan was to use swappable high energy batteries in this scooter to deliver a range of up to 240 km.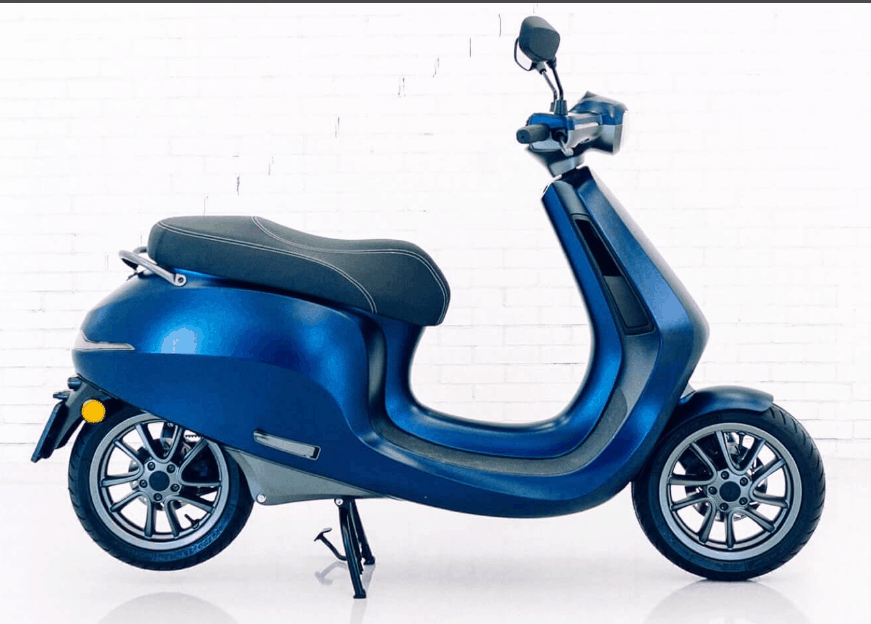 The cleantechnica calls the make – "the Tesla of the scooter world". It's due to the impressive built, design, and battery efficiency.
The scooter comes with a wide 7-inch screen mounted on the front and it operates on the Android operating system. The system connects to your phone and handles the music, navigation, phone calls, and other settings.
The battery design is another Tesla-like design that makes a low center of gravity and more space. Three banana batteries of the scooter slide into the floor through the under-seat storage compartment and would not take up any of the useful storage space.
Technical Specifications of AppScooter
The first most interesting specification of the scooter is its acceleration. The scooter is so powerful that it can go from 0 to 45 km/h in just 3.9 seconds.
There are three motor configurations for 'AppScooter'
The top speed of the three models are different. 2 kW model travels at a top speed of 50 km/h. 4 kW model reaches up to 70 km/h.
The 7 kW high speed model has a top speed of 95 km/h.
There are three battery modules in the scooter each provides a range of 80 km. If you would like to get more range, you may take a few spare batteries in the storage space.
Regenerative braking is implemented in the vehicle design and it helps out to extend the range of the scooter about 5 to 9%.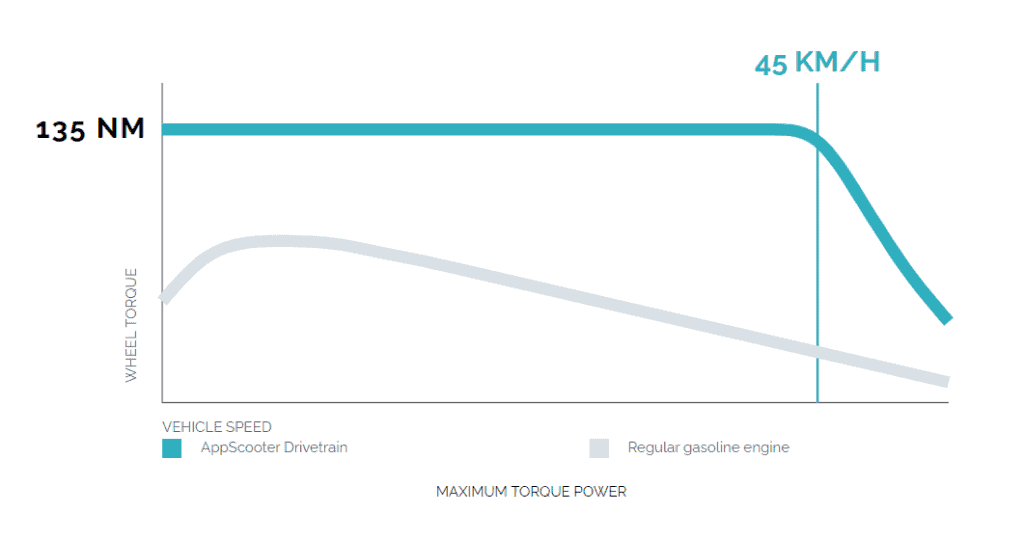 Detailed Specifications
The following are the detailed specification of the AppScooter
Dimensions
Curb Weight – 74 kg
Wheel Base – 1345 mm
Trunk Size – 50 L
Battery Weight – 8.5 kg per Module
Seat Height – 800 mm
Cockpit & Safety
Warning and Alert – Detailed Diagnostics via Built-in App
Cockpit display – 7″ full-color touch screen
Chassis
Front Suspension – Telescopic Single Shock Headstock
Brake System (Front/Rear) – Hydraulic Disc Brake
Brake Disc Front – Slotted 200 mm
Wheels – 12″ Aluminum Alloy
Rear suspension – Horizontally Mounted Shock Absorber with Progressive Geometry
Brake Caliper type (Front/Rear) – Fully Floating Calipers
Brake Disc Back – Slotted 180mm
Tires – 110/70-12
Battery
Battery Capacity – 1155Wh per Module
Max Discharge Power – 3kW per Module
Max Regen. Power – 1250 W per module
Pack Safety – Advanced Battery Management
Max Charge Power – 600 W per Module
Range – 80km per module at 20km/h
Drivetrain
Transmission Type – Single Stage Belt
Motor – AC Brushless
Acceleration – 0 to 45 km/h in 3.9 sec (based on simulations)
Maximum motor power – 6 kW
Nominal motor power – 3 kW
System Voltage – 48V Nominal
Maximum motor torque – 50 Nm
Belt ratio – 2.7
Max wheel torque – 135 Nm
Audio
Speakers – 2 x 10W Full Range Audio
Software & Connectivity
Operating System – Android
Companion App Functionality (available soon) – Remote lock/unlock, Find My Scooter, Charging Control
Internet connectivity – 4G (LTE), 3G, GPRS, WiFi
Device communication – Bluetooth, WiFi
Built-in Software Functions – Navigation, Music, Phone Control, Advanced Diagnostics
Smartphone compatibility for pairing – iOs & Android
Updates – Over-the-air
Positioning – GPS/GLONASS/Galileo
Ola and Etergo
Ola Electric has acquired Etergo and now plans to launch the electric scooter in the Indian market by 2021. One of the personal mobility choices for Indian's is the scooters.
The Indian roads are dominated by the gasoline scooters. Nowadays, a few established companies and startups have started manufacturing electric scooters. We would expect Ola's electric scooters as well on the road in 2021.
"The future of mobility is electric, and the post-Covid world presents an opportunity for us to accelerate the adoption of electric mobility globally. We look forward to building the best global capabilities in engineering, design, and manufacturing for these products to be made here in India," says Ola Electric founder & chairman Bhavish Aggarwal
Conclusion
Ola Electric is stepping into the electric scooter market with the acquisition of Etergo. It is planning to launch the all-electric scooter 'AppScooter' in the Indian market by 2021.
Let's expect this would accelerate electric mobility revelation in India.
Don't forget to share the post with your friends and follow us on Facebook, LinkedIn, Twitter, Instagram, and YouTube!
Key Points
Ola has acquired Etergo and launches all electric 'AppScooter' in 2021
The premium scooter has a range of 240 km
Etergo is called "the Tesla of scooter world"
You may also like