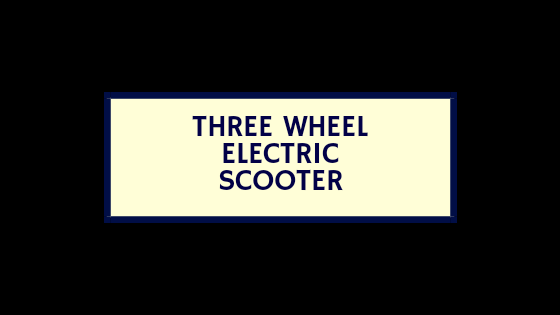 Electric three wheel scooters are available in the automotive market. What is special with a three-wheel scooter?
In India, you can see many companies manufacture electric three-wheel scooter.
We discuss the Electric three wheel scooters today. Three types of three/ four-wheel electric scooters are being explained here for you. Thirdleg, Tunwal, and Yamaha.
What are the advantages of three wheel electric scooter?
A three wheel scooter will have more stability and it provides more confidence to the driver
Electric motorbikes for physically challenged persons can have three wheels. People integrate additional wheels to the normal two-wheeler and to use as three-wheeler/ four wheeler scooter.
Electric Three Wheel Scooter Companies
We are discussing Yamaha, Thirdleg, and Tunwal (Indian Startup).
#1 Tunwal E Vehicle India Pvt. Ltd.
Tunwal E Vehicle India PVT. LTD. is an Indian Electric two-wheeler manufacturing company that was established in 2014.
Their mission is to change make all gasoline bikes exist on the road to battery-operated electric bikes.
The Tunwal E Vehicle founded by Mr. J P Tunwal is located at Gandhinagar, Gujarat.
Tunwal E Vehicle India Pvt. Ltd. believes that its business is not just about building a loyal customer base, but also about building a better, cleaner and greener future for the generations to come.
Storm Advance three wheel Scooter (electric)
Turnwal introduced single-seater three wheel electric bike especially for confort and effortless drive for physically challenged people.
The reverse gear in the scooter would help to move the vehicle back as if you drive a car.
Vehicle Specifications of Storm Advance
Top speed of 25km/h
Range of 50 to 60km
Lead Acid / Li-ion battery
Brake Front: Disc, Rear: Drum
Reinforced High Strength Steel Chassis
Tunwar Storm advance does have an ARAI (Automotive Research Association of India) certificate.
The scooter uses two types of battery. The lead-acid battery model comes with a year warranty and a Li-ion battery with a 2-year warranty.
It's important to check the quality of the product, and details on the website before you buy the product.
#2 Thirdleg Mobility Aids
Another product that we are checking now is a four-wheel electric motorbike for physically challenged people.
Third Leg Mobility Aids came into existence in the year 2012 at Chennai Tamil Nadu in India.
They manufacture, trade, distribute, and supply an exclusive range of the following products
Power Wheelchairs
Commode Wheelchairs
Tilt-In-Space Wheelchairs
Scooters
Lifts
Folding Hoists
Wheel Brakes
Wheelchair Anti Tips
Wheelchairs Foot Parts
Wheelchair Wheels
Wheelchair Spare Parts
Thirdleg Mobility Aids offer maintenance services for wheelchairs. The main area of work is the south Indian region including Andhra Pradesh, Karnataka, Kerala, and Tamil Nadu.
Thirdleg Mobility Aids' electric scooter
Thirdleg Mobility Aids claims that they are one of the leading manufacturers of 4 Wheel Electric Scooters in Chennai, Hyderabad, Bangalore, and Kerala.
The 4-Wheel Electric Scooters designed & manufactured by Thirdleg Mobility Aids employing the latest technology and advanced machinery are widely used at shopping complexes, schools, colleges and other places by physically challenged people & senior citizens.
Features: 
Battery operated
Battery of 24 V can run up till 10 kilometers easily
Easily operated hand controller
Motor: 500W
Battery: 12V 20AX4PCS
Charging time: 6-8h
Range: 35–40km
Forward speed: 0–15km/h
Climbing ability > 8 degree
Overall length: 1480
Overall width: 680
Overall height: 1200
Front wheel: 16×3.0″
Rear wheel: 16×3.0″
G/N. W: 100/85KGS
Max load: 110kgs.
#3 Yamaha Tritown – three wheel electric scooter
Now let's have a look at an amazing product from Yamaha.
Yamaha first introduced the concept of three wheeled scooter in the 2017 Tokyo motor show.
The final version of Tritown electric scooter has been unveiled by Yamaha. It makes the passenger travel shorter distances with ease.
Twin front-wheel vehicle uses Yamaha's leaning multi-wheel (LMW) mechanism.
The vehicle is ridden standing up. Please check the images of Yamaha Tricity.
Have you seen the leaning mechanism in the four-wheel motorcycle tesseract? The Tritown also uses the same mechanism of leaning. Two front wheels of the scooter are equipped with the leaning mechanism.
Other features of Tritown electric scooter
Tricity is built with a 500 W electric motor connected to the rear wheel.
It uses a 380 Wh battery that mounted on the frame. With the motor and battery, Tricity three wheel electric scooter can reach a maximum speed of 25km/h.
It is lightweight and compact
The skeleton frame makes it weigh just 40kg
The length of the scooter is just over 3.3 ft.
Yamaha plans to gather data from the three wheel scooter which is in the testing phase now. They had already invited people from the general public for month-long testing in Japan and they look towards for production-ready version.
Conclusion
We have discussed three types of three/four-wheel electric scooters. Those are exclusively designed for personal mobility. Some are for physically challenged persons.
Electric vehicles are not only confined to cars, trucks, and buses they are everywhere.
Don't forget to share the post with your friends and follow us on Facebook, LinkedIn, Twitter, and Instagram!
You may also like