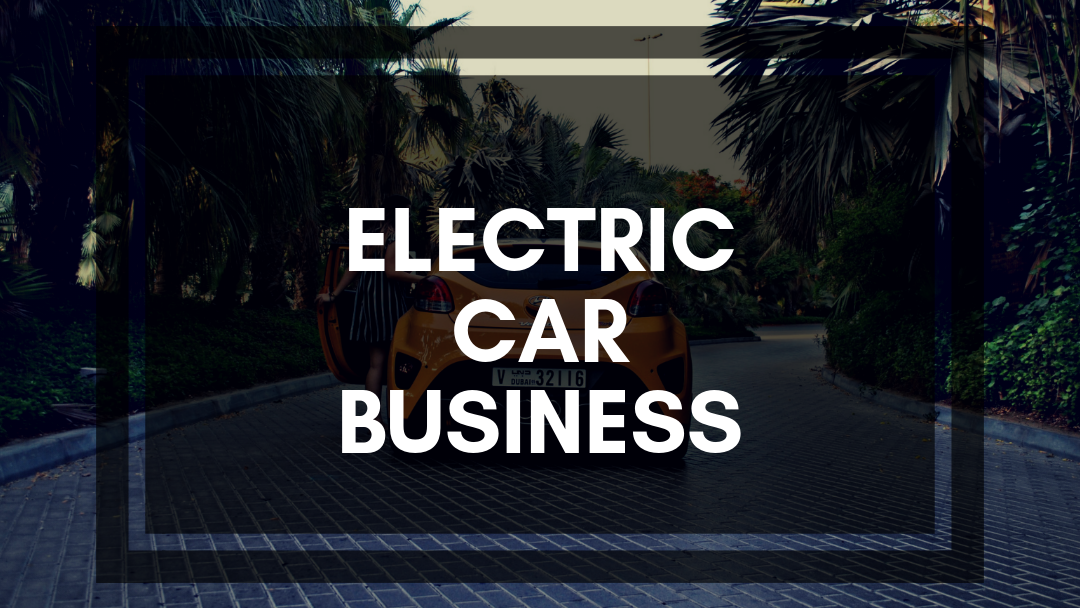 Electric cars capture the automotive market since manufacturers started focusing on electric vehicles. World's top vehicle manufacturers already declared their plans on electric mobility. The growth of electric vehicles opens up electric car business opportunities.
The ideas for entrepreneurs in the field of electric vehicles are listed below. These list of electric car business opportunities would help EV enthusiasts to start their own business in the growing field of electric vehicles.
Check out the new business ideas for electric cars and other vehicles below.
Electric car business opportunities
Along with the title, a short description of the EV business ideas are also given. Read, learn, explore, think, and start your dream business related to electric vehicles.
#1 Electric car servicing garage
Electric car service is entirely different from internal combustion engine vehicle service. Electric motor repair, Inverter repair etc. would be part of the servicing garage.
#2 EV Charging Station
Another electric car-related business opportunity is EV charging station. Electric car charging stations can be developed and installed as per the standards accepted in the area where it is installed.
Home-based charging stations, private charging stations are other opportunities in electrical car-related business.
Electric car charging station business opportunity will be practical in many countries as the number of EVs increases day by day.
#3 Electric car spaying workshop
Electric car body work and painting workshop would be another business opportunity related to electric vehicles. The workshop focus mainly electric vehicles and can be extended to all kinds of vehicles.
#4 EV Charging Station Management
EV charging station management and repair would be a profitable business. If number of charging stations increase, the possibilities to start and run a complete charging station management is high.
A group of different charging stations might be installed together and localized repair and maintenance would be the best solution.
#5 Electrical work shop for electrical vehicle
Electrical work shop to repair and do electrical related work on electric car is a good business. Electrical motor, circuits etc. would be parts covered by the workshop.
#6 Home Charging Station Setup Service
Level 1 chargers are generally available with the electric vehicle. But Level 2 chargers are not always available. But they are necessary to fast charge electric car. A home charging stations setup service can be started as a business.
#7 Charging Station Setup Training Service
Electric car charging station setup training center can be started to teach EV charging station service. Charging station setup training service shall be started along with charging station repair business.
#8 Electric Car Rental Service
Electric car rental service can be started.
#9 Spare Parts Manufacturing/selling
Electric vehicle spare parts manufacturing or selling is another business that can be started. It's also good to sell spare parts after importing from the manufacturing units.
#10 Electric car battery shop
Battery replacement is necessary in electric vehicles in almost 5 to 10 years. Electric car battery sales shop would be profitable venture as the number EVs increases.
Electric car battery business expects go gain momentum soon since the arrival of large number of EVs to the market.
#11 Electric Car Washing
Electric car washing can be started as part of other car washing stations. This is another add on to the electric car business opportunities.
#12 Mobile Electric Cars Repair Services
Electric car repair stations that can be availed at the location where the car brakes down would be helpful. The person who knows electric car repair can easily start the business and promote the business through advertisements.
#13 Franchising/Reselling
Electric car franchise and reselling business have bright future since the number of EVs increases. World's best vehicle manufactures already started EV manufacturing. The reselling and franchising opportunity is there for EVs.
You can search for the best electric car dealership opportunities and set up one for you.
#14 Portable Charging Station
Electric car charging stations are not available all places. There is a place for portable charging station to charge electric cars at emergencies. The business can be started along with other businesses.
#15 Solar charging station installation centre
Electric vehicle charging station that uses energy from sun is a solution for high electricity demand of charging stations. Installation of solar based home, or private charging stations require expertise. There is a good business opportunity.
#16 Online shop for electric spare parts
People select and buy goods from online shops. It's a good option to sell products through Amazon and other online sellers. You can start your own online shop for electric car spare parts.
#17 Online shop for electric car reselling
One of the best electric car business opportunities is online shop for electric car reselling. Increasing demand for electric cars makes the online shop for electric car reselling a profitable business.
#18 Electric car charge and chill station
This is another updated version of the electric charging station business. The time taken to charge an electric vehicle is more than the time to fill fuel of IC engine vehicle.
The EV charging and Chill stations would be some infrastructure where drivers can drink coffee, watch a movie, have a meal, play games, etc. while their EV charges.
#19 Battery Scrapping
Batteries of electric cars would be unusable after 1000s of charge-discharge cycles. The Lithium might cause water and soil pollution if not disposed of properly.
Read: Electric vehicle battery life expectancy
A battery scrapping station can be set up to reuse the old battery parts and dispose of the waste.
The battery of EVs can be used for some other electrical storage purposes once the capacity reduces.
Think about the smart business!
#20 Last mile connectivity
Last-mile mobility solutions to connect people who use public transport to the final destination with ease using electric two-wheeler is another business opportunity.
A number of operators have already started the business in Europe using electric scooters. You can pay and use the electric scooters parked nearby the railway stations and travel to the adjacent locations.
#21 Electric Bike Rental
Electric bike rental service at cities and tourist locations is a good business opportunity in the field of electric vehicles. The ecofriendly low cost transportation would be preferred by the tourists.
#22 Electric 3 wheeler manufacturing
E-Rickshaws are quite common in cities like Jaipur (India). A small distance city drive would be possible using the e-rickshaws. The market is still open even though many companies have already invested in the field.
#23 Start an electric vehicle blog
Blogging is not only a hobby but also a business now. You can start an electric vehicle-related blog to share all the EV news, technologies, etc.
I created the blog "GetElectricVehicle.com" and monetized using Advertisements and affiliate marketing.
Don't forget to share the post with your friends and follow us on Facebook, LinkedIn, Twitter, Instagram, and YouTube!
Conclusion
The electric vehicle market grows and the business opportunities are high. We have listed and discussed a few businesses that can start related to electric vehicles.
The listed business ideas can be implemented separately or as a combination of more than one. For example, electric vehicle bodywork and washing can be started together.
Do you have more business ideas? Would you like to share with us? Please comment below and consider sharing the article.