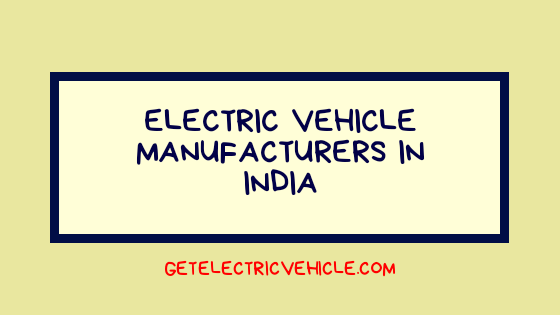 We list out the top electric vehicle manufacturers in India who already started EV production or about to launch EVs.
This is the first part of the "EV manufacturers in India" blog series. You can read the other parts of the series here
---
EV manufacturers in India – Blog Series
Electric Vehicle (Car and Rickshaw) Manufacturers in India
Electric bus, scooter, and other vehicle manufacturers in India
---
India is one of the large automotive markets in the world. You can find the medium segment cars, rickshaws, scooters, buses, trucks, and more on Indian roads.
The electric vehicle industry is also gaining momentum in India. The government of India launched FAME (Faster Adoption and Manufacturing of Electric Vehicles) scheme for promoting electric vehicles.
Electric Vehicle manufacturers in India
We are listing different types of Electric Vehicle manufacturers. Some of them manufacturers electric cars, electric rickshaws, etc. together. (The list doesn't follow any order)
Electric Car Manufacturers in India
---
Following are the list of electric car manufacturers in India.
#1 Mahindra Electric
Mahindra Electric is the pioneer of electric vehicle technology in India. And they try to bring tomorrow's movement today. They manufacture a wide range of electric vehicles.
To boost the electric vehicle production, Mahindra & Manindra founded the Reva Electric Car company in 1994. Now, the electric vehicle company manufactures electric cars, cargo vans, and e-rikshaws.
Electric cars from Mahindra electric
#2 Tata Motors
The automobile manufacturing company was established in 1945. Tata Motors is India's largest and the only original equipment manufacturer offering an extensive range of integrated, smart and e-mobility solutions.
Electric cars Tata Motors
Tata Tigor EV
Tata Tiago EV
Tata E-Vision
#3 Atom Motors
The electric vehicle startup Atom Motors plans to manufacture electric cars and other EVs in the near future. They design, calibrate, test, and make it work on roads.
#4 Hyundai Motor India Limited
Hyundai Motor India Limited (HMIL) is a wholly-owned subsidiary of Hyundai Motor Company (HMC). It is the largest car manufacturer and the number one car exporter in India.
Electric car from Hyundai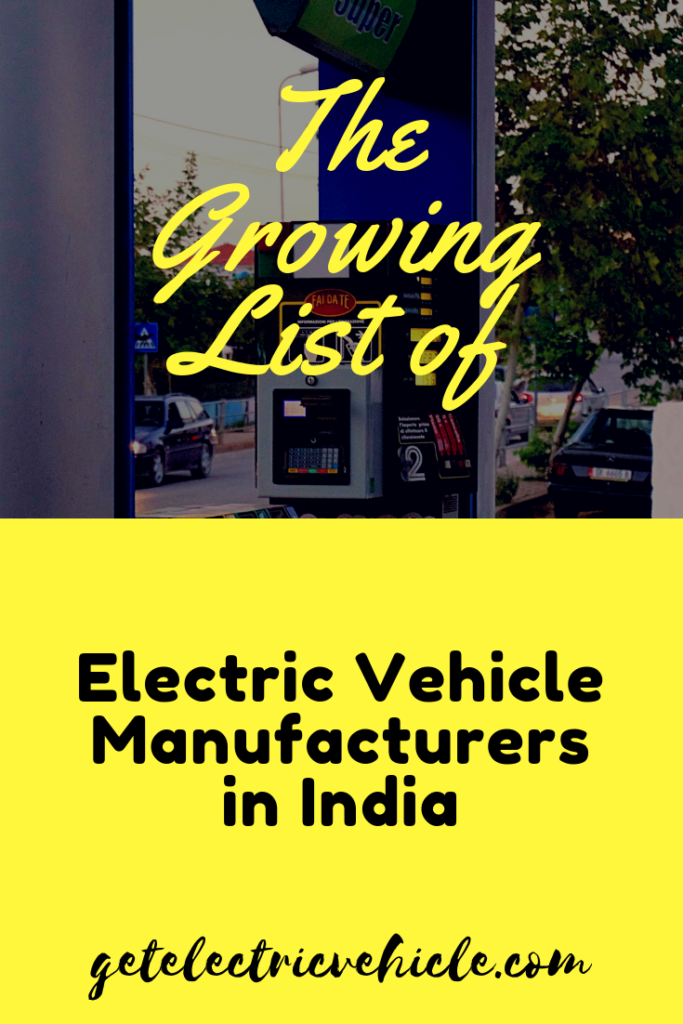 E- Rickshaw Manufacturers in India
---
Rickshaws are one of the common vehicles in India. There are more e-rickshaws in India than battery-powered cars inChina.
Following is the list of electric rickshaw manufacturers in India.
#1 Mahindra Electric
Mahindra Electric manufacturers e-rickshaws and three-wheeler vehicles in India.
#2 Gatti
Entice Impex Pvt. Ltd. manufacturers (Gatti) established in 2014, manufacturers and supplies supreme quality passenger e-rickshaws.
Gatti-deluxe
Gatti-LX
Gatti-Viraz
#3 Atul Auto Ltd.
Atul auto ltd., established around 30 years ago is one of the fastest-growing 3 wheelers in India. Their mission is to fulfill the common man's transportation needs by introducing environmentally-friendly vehicles.
#4 DSF Industries Pvt. Ltd.
DSF Industries Pvt. Ltd. made indigenous designed, battery-operated E-Rickshaw & E-Loader in India. The e-rikshaw can carry 4 passengers and a driver in total.
DSF Industries plans to open dealerships in Odisha, Punjab, Uttar Pradesh, Bihar, and West Bengal to expand the market.
#5 Ecoyan
Ecoyan manufacturers, supplies, and services electric motor vehicles in India. This Karnataka based company is experienced in customized services and fulfilling customer requirements.
#6 KOMAKI
Komaki manufactures e-rickshaws and other electric vehicles since 2016.
Following are their e-rickshaws
#7 Dilli Electric Auto Pvt Ltd
Established in Sonipat, Haryana, we, Dilli Electric Auto Pvt. Ltd., has established its superiority in the market as one of the leading Manufacturer, Supplier of E-Rickshaws and Battery Rickshaws.
CityLife e-rickshaw
XV-850
and more..
#8 CEEON INDIA
Founded in 2014, CEEON has pioneered the electric rickshaw sector by focusing on research and development as a result of which we are sought after in the market.
They manufacture a variety of electric rickshaws – 5,7, and 9 seaters
#9 Adapt Motors Pvt Ltd.
Adapt Motors Private Limited (AMPL) is an established trading & manufacturing company in India. The product range of the group includes EV Vehicles, auto-rickshaws, and carts.
Since almost 2018, the company is fully involved in the design, fabrication, assembly, and sales of battery-operated rickshaws in India through its strong human resource commitment.
#10 Kinetic Green
Kinetic Green Energy & Power Solutions Limited is a venture from Kinetic & Firodia group. Kinetic Green offers a wide range of battery-operated vehicles such as E-Autos, E-Carts, and Buggies.
They say that they continue to lead the way as an innovative and progressive company. Kinetic has entered the Battery operated vehicles domain to give "A Better Tomorrow". 
#11 Gayam Motor Works
Gayam Motor Works (GMW) claims that they launched India's first electric three-wheeler powered by Li-Ion battery in 2015. They provide the battery swapping technology to reduce the time to get the battery fully charged to less than a minute!
Their products are
UrbanET – Passenger smart auto
EShaft – Passenger e-rickshaw
and more..
#12 REEP Motors
REEP motors manufactures e-rickshaw and other electric vehicles. The Chennai based company focus also on solar panel integration to the electric vehicles.
#13 Infinite e-solutions
Infinite e-solutions was established in 2016 and manufactures an extensive range of e-rickshaws and other electric vehicles.
#14 OK play
The Hariyana based company OK play manufactures e-rickshaws, e-loaders, and more.
#15 Green Shuttle Technology Pvt Ltd
Green Shuttle Technology Pvt Ltd. is a leading manufacturer in electric vehicle industries. Their founders and partners have already accumulated over 15 years of experiences in researching, developing as well as producing many different types of electric two-wheeler, three-wheeler, and four-wheeler vehicles.
Conclusion
The list of electric vehicle manufacturers in India is listed in this post. We focussed on the Car and Rickshaw manufacturers in India here.
Read the next part of the blog series to know more about other electric vehicle manufacturers in India.
Do you know more companies who manufacturers electric cars and e-rickshaws in India?
Please comment below so that we can add to the list!
Don't forget to share this post with your friends!
You may also like