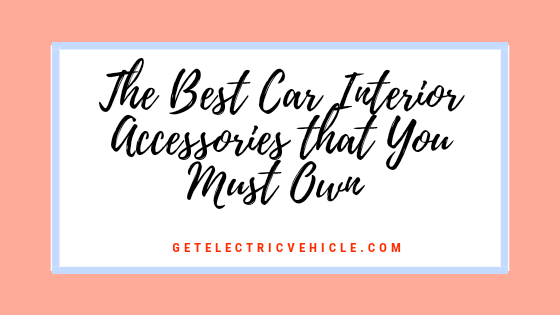 We are going to list the best car interior accessories that would help you out to improve your driving experience. A person spends a lot of time inside a car while going on a long trip. You shall check the below accessories and find how they would help you out.
We selected them since we think they are really useful!
The best car interior accessories that improve your driving experience
The cool interior accessories for a car that would support you in many aspects are presented below. Have a look at the below-listed car interior accessories.
These accessories are not only useful for an electric car, but also for conventional cars.
Have you read the post Top 5 Electric car accessories a proud EV owner should buy.
Ther we focussed on electric car accessories. Some of them are useful for conventional vehicles as well.
#1 Steering wheel cover
---
SEG Direct Microfiber leather car steering wheel cover protects your car's steering wheel. It's a perfect decor for your car. The cover is suitable for middle-size steering wheels with diameter 14 1/2 inch to 15 inches. The leather steering cover is skid proof, stable and heat resistant.
The material used to made the cover is smooth and durable microfiber leather.
You may check out the product
#2 Bamboo charcoal Air purifying bag
---
Air purifying bags are necessary to remove the unpleasant smell inside a car.
According to the product description,
This is an activated charcoal odor eliminator for a fresh & healthy home: Made from 100% activated bamboo charcoal. Air purifier charcoal bag is the most convenient, most practical and safest solution to keep your car free from any kind of unpleasant smell.
This is the effective car odor eliminator with sustainable benefits: This air freshener charcoal bags are not just amazing odor absorbers and car air freshener bags. This bamboo deodorizer bag is fragrance-, residue- and chemical-free. This biodegradable bag never harm the earth.
This activated charcoal bags that won't disappoint you: Every purchase of their bamboo activated charcoal air purifier bag from any California Concepts authorized seller comes with an exclusive California Home Goods chance for a money-back. In case you're unhappy with your purchase of their odor absorbers, just reach back out and they will improve your overall experience. They are so confident in the quality of their activated charcoal air freshener bag that they are always ready to address your concerns.
Save more than you expect with our activated charcoal bamboo bag: With the charcoal bags natural air purifier, you can now say goodbye to the conventional air odor eliminator sprays and expensive plug-ins. Their charcoal deodorizing bags are packaged in durable eco-friendly material that'll last for up to 2 years. The California Air Purifying Bag can be easily rejuvenated. Just lay the charcoal scent absorbers under the sun for at least an hour and the odor eliminators can work like new
Reusable bamboo deodorizer bags that work anywhere: The 200g activated charcoal odor remover pack efficiently works round the clock wherever they are. These bamboo charcoal air purifier bags filter and trap nasty smells, excess moisture, airborne bacteria, and more.
#3 Car Window shade
Enovoe Car Window Shade – (4 Pack) – 21″x14″ Cling Sunshade for Car Windows – Sun, Glare and UV Rays Protection for Your Child – Baby Side Window Car Sun Shades
Fits most cars: This pack of four 21" x 14" fits most of the cars. These Car Sunshades are designed to fit larger car side windows of SUVs, minivans and full-size cars. It's really simple to install on the window. Simply, place the sunshade on your side windows and run your hand across it.
Sun protection: The car window shade blocks around 97% of ultraviolet rays. The mesh fabric design of the car sunshade protects the interior from sun glare and heat. This car window shade keeps your car cooler.
Unique dual layer design: Enovoe Baby Car Sun Shades have a dual layer design. mesh side provides protection and maintains visibility for driver.
A free premium pouch to keep the window shade when they are not in use will be available.
Enovoe car window shades offer a life time money back guarantee. They will refund the entire purchase and send you a complimentary pair!!
#4 Headrest hanger holder
IPELY Universal car back seat headrest hanger holder converts car's headrest into a convenient storage space. It helps to hang clothes. handbags, umbrella, groceries, water bottles and much more.
It's quite easy to install and could hold up to 18 lb per hook. The headrest hanger is made up of durable and environmental silicon rubber.
#5 Portable pop-up trash can
A premium quality, waterproof portable garbage bin is a must have for a car.
The collapsible pop-up trash can keep your car neat and clean. The product can be used in car, truck, or boat. The bottom adhesive velcro holds can at a place.
The product provides 100% lifetime money back guarantee.
#6 Heavy duty rubber floor mats
Motor Trend MT-773-BK FlexTough Baseline-Heavy Duty Rubber Floor Mats for Car is built for durability. They are flexible for floor contours and tough for all weather.
The product has been made from Odorless EVA rubber.
The custom fit design made them trimmable to fit your car with only a pair of scissors. Moreover, the mat has custom dimensions.
#7 Car seat gap filler
Drop Stop – The original patented car seat gap filler claims that it is the only solution with 100% gap coverage in a car. The product blocks the annoying gap between your car seat.
The universal fit car seat gap filler comes with 2 pieces per package – One for the driver side and one for the passenger side.
# 8 Laptop/eating desk for car
Mount the portable light weight laptop desk on your car's steering wheel and get an instant ergonomic desk.
The CuteQueen car laptop/eating desk do have the following properties
Very light to carry, but sturdy enough to support a laptop, lunch, and notepad.
CuteQueen car laptop desk can be mount on the steering wheel in seconds and can be stowed
The lightweight design makes it easy to store in the back seat pocket while not in use
The dimension of the product is most suitable for convenient use Size: 28cm X 42cm X 2cm (11 inch X 16.5 inch X 0.79 inch)
#9 Safety hammer – Emergency escape tool
No one expects an accident in a car. But in case of an emergency, we should be able to break the window of the car, cut the seat belt and escape from the vehicle.
Here is the tool that could help you to escape from a car in case of an emergency.
VicTsing 2 Pack Safety Hammer, Emergency Escape Tool with Car Window Breaker and Seat Belt Cutter, Life-Saving Survival Kit
One end of the tool is the seat belt cutter and the other end is two sharp hardened carbon steel points to break the windows.
The product comes with a pack of 2 safety hammers and mounting brackets
The high-grade carbon made double tipped hammers is sharp and hard enough to break out the window for life-saving.
The 6.7-inch long handle makes the tool easy to control. Reflective strips are included on both sides of the handle for better visibility.
The included mounting bracket would be helpful to keep the car hammer stationary and ready to use if needed in the glove compartment, door pocket, armrest box, etc. (Note: mounting screws is not included)
#10 Document wallet holder
Nogis Slim Thin Leather Wallet Holder for Auto Car Insurance Registration, Driver License, Credit Card ID, Car Document ID with Strong Magnetic, Black keeps the important documents of your car in place.
The wallet holder is made up of premium high-quality leather (shiny, soft, and durable) withstand temperature.
The car document holder is featured with strong magnetic, easy to close, which can better prevent your documents from falling out
The size of the product perfectly fit for the driver license and auto car insurance registration. Other most frequently used cards can also be protected from wear and tear.
The handcrafted product is odorless and has the most appropriate thickness
Other features of the product are ultra slim, premium quality, and lightweight
#11 Sunglass holder
FineGood 2 Pack Glasses Holders for Car Sun Visor, Sunglasses Eyeglasses Mount with Ticket Card Clip is a cool product that holds two pairs of sunglasses.
The sunglass holder can be clipped to the sun visor or car and do not obstruct the driver's view.
180-degree rotation of the sunglass holder allows you to keep the sunglass horizontal or vertical.
Flat and little bit wide clip does not leave any marks on the sun visor. The soft material does not harm sunglass.
#12 Cup holder for car
BottlePro – cup holder adapter is an adjustable and extendable which holds 2/40 Ounce Hydro Flasks, 32 Ounce Nalgenes, 36 Ounce Yeti Ramblers, 32/40 Ounce Klean Kanteens, and Other Large Bottles.
The adjustable 3-ring base BottlePro cup holder securely fits the majority of cup holders. This simple but effective design has less moving parts
Soft Fit foam sleeve included with every BottlePro. This sleeve makes sure you get a great fit, even if your vehicle's cup holders are between BottlePro's base sizes
Use your Soft Fit foam sleeve and know that your vehicle's cup holders will be protected from scratches and damage
Works with 36 ounce YETI Ramblers, but not with 20/30 ounce version that has sides that get smaller towards the bottom. Also does not work with 14 ounce YETI mugs
EXCELLENT CUSTOMER SERVICE (just read our company reviews). No risk. Easy refunds if it doesn't work for your situation
#13 Key chain
Heavy duty Lancher Key chain for men and women is a must-have product for car owners.
One press to detach feature makes it much easier to detach and clip-on belt loop
The key chain is anti-scratch and will never rust
Solid construction makes it one of the most durable key chain
Weight and Dimension: Weight: 1.7oz; Dimension 3.6 * 1.2 inch.
Extra 2 key rings provided for easy key management and to keep your keys organized
The product has 5 years of warranty and comes with gift box
#14 Smoke and Smell eliminator gel
Ozium Smoke and odor eliminator 8oz gel for Car consistently provide ongoing odor elimination.
The large size pack includes (4) 8oz (226g) Ozium Original Gels
The product is designed to reduce airborne bacteria, and eliminate smoke and other odors
Convenient gel form fits under the seat of your vehicle
Proven effective by bacteriological laboratory testing
#15 Seat belt pad
MIKAFEN Universal car seat belt pad helps to protect your neck and shoulder from the seat belt rubbing.
The pack of 2 car seat belt pad is made up of high-quality cotton blend soft velvet provides a level of comfort. It makes it no need to pull away from the seat belt from the body while driving
The product is able to protect you and your family while emergency braking and accidents by provideing better cushioning to your shoulders
Seat belt pads can be used for car, truck, jeep, SUV, airplane. The product can also be used on your handbag, baby diaper bag, golf bag, luggage which with a strap, and anyplace else you want padded comfort
Seat belt pad is ultra easy to use. You have to just wrap them around the seat belt strap and slide it to the position that fits you the best
2 years quality insurance and 30-day unconditional refunds are after sales service from the product
#16 USB Charger
Anker 24W dual USB car charger combined with PowerIQ and VoltageBoost to provide the fastest possible charge up to 4.8 amps or 2.4 amps per port.
The Anker is America's leading USB charging brand with 30+ million users
Does not support Qualcomm Quick Charge)
Anker's MultiProtect safety system ensures complete protection for you and your devices.
Anker's compact design is one of the industry's smallest ever USB car charger technology, featuring two USB ports and an LED light for after dark.
What You Get: The Anker PowerDrive 2 (24W 2-port USB car charger), welcome guide, worry-free 18-month warranty, and friendly customer service.
#17 Mirror Dash Cam and rear view Cam
CHICOM V21 9.66 inch Mirror Dash Cam has 1080P 170° full HD front camera and 1080P 140°Wide Angle Full HD Rear-View Camera.
According to the description of the product,
9.66 Inch Big streaming media Touch Screen 1080P 9.66-inch streaming media rearview mirror features a Full HD IPS touchscreen allows you to see more traffic information
1080P front camera records highest quality videos day and night. With a 170° ultra-wide lens to cover the entire road ahead and capture all the critical details like license plates, signposts, etc.
AHD Low exposure 1080P back camera features F2.0 6-glass lens that greatly enhances night vision while you're reversing.
It's also packed with the high-end CMOS sensor, which prevents video overexposure to give you a clear image of what's behind your car.
When encounter collision, G-sensor will automatically lock the video, which makes the video can't be overwritten even Loop Record function is on.
When the storage space is full, it can automatically cover the earlier segment. With Loop Recording enabled, you never have to worry about buying additional cards when capacity is full. Memory can be extended up to 64GB
Parking Monitor–To protect the built-in battery, we set the device to be shut down in 5/10 seconds when it is not being connected to an external power supply. By doing so, the reserved power will enable the Parking Monitor so that the device will automatically turn on to record videos when detecting collision. And the locked video files can only be recorded for 30 seconds.
The rearview camera powers on automatically when shifting into reverse gear, It has an extremely wide 140-degree viewing angle, which ensures you a more than adequate view of what's behind your car. It eliminates most of the blind spot. This will greatly improve traffic safety. The finger swipe left and right on the screen to switch between the front and rear cameras and slide up and down to switch the angle of the front and rear cameras.
#19 Tile mate key finder
Tile mate key finder is one of the best selling Bluetooth tracker. It avoids the possibility of missing your car key. In case you missed your car key, tile mate key finder help you out to track where the key is.
Tile mate Bluetooth tracker can be looped onto keychains of your car so that you can find it easily
The Tile Mate ring when it is triggered using your smartphone when it's nearby. You may anonymously enlist help in the Tile community if your Tile is not where you left it. With 5 million Tile devices, this is the largest lost and found network
You can found your phone simply pressing the button on your Tile Mate to make the phone ring even on silent mode
The product is water resistant up to IP57 standards.
It has a sound – 88-decibel melody
The Tile app remembers the last time and place it saw your Tile, so if you left it somewhere, you'll always know where to look
The battery life of the Tile Mate is approximately One year
#20 Wireless car charger
Are you tired of messy wires inside your car to charge your cell phone? Here is the Squish Wireless car cell phone charger and mount combined together.
The 360-degree rotating cradle provides flexibility for your 2 in 1 wireless charger and car phone mount. Now you can charge your phone in the most convenient method while driving
Squish Wireless car cell phone charger provides the most convenient hands-free experience. When you simply drop mobile phone inside the mount, the claps automatically hold your phone with a secure grip around your phone.
The material used is anti-scratch and anti-slip rubber. The phone will remain in place while going over humps or a dirt trail.
The product has Qi Standard Approved built-in wireless charging chipset
You can securely install this phone holder on almost any vehicle air vents without any tools. The product can be used outside your vehicle also (office, room, study, pretty much anywhere)
Squish wireless charger works with most Qi-enabled smartphones and Quick Charging devices, regardless of size and shape.
Conclusion
The cool interior accessories for a car are listed in the post. The best car interior accessories will improve your driving experience. Car accessories industry develops a lot of products every day to meet customer requirements. Have you enjoyed reading about the products?
Don't forget to share the post with your friends and follow us on Facebook, LinkedIn, Twitter, Instagram, and YouTube!
You may read the below posts as well for more product information.