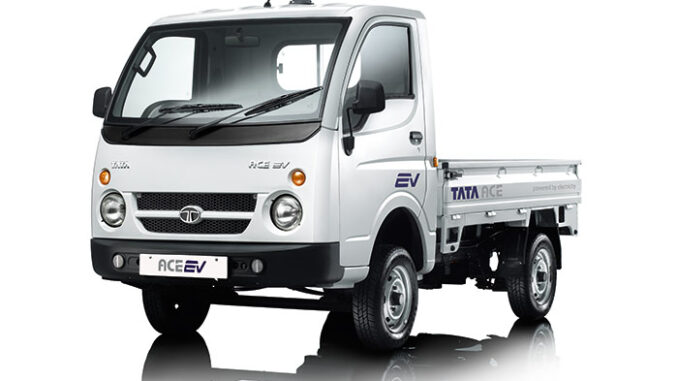 Tata Motors is diversifying its product range to bring electric-powered small commercial vehicles (SCV) to India. The group has been at the forefront of bringing disruptive technologies and strategies to the Indian automotive landscape. 
This is a potential opportunity to introduce electric SCVs to the Indian market due to a variety of reasons. 
Some of them are.
The price of diesel is increasing on a day to day basis in India.
The price of diesel SCMs is increasing due to stringent emission and environmental regulations.
Ecommerce companies are actively looking for ways to achieve their zero-emission targets.
For e-commerce companies, electric SCMs are like dodging two targets with a bullet.
Though the company hasn't declared a definite time frame about the launch of electric SCVs, Tata Motors Executive Director Girish Wagh said it would be "Soon".
Tapping Into The Last Mile
Tata Motors plans to produce an electric version of its small commercial vehicles 'soon' in order to take advantage of the electrification opportunity in the last-mile transportation market.
The company's commercial vehicles unit has been collaborating with a few e-commerce businesses to create electric small commercial vehicles (SCVs) for last-mile transportation while utilising synergies from the company's passenger vehicles business unit.
"We see that e-commerce players are actually looking at electric vehicles for last-mile distribution. That's where we are trying to understand their requirement and then come up with a solution and not just a product," Girish Wagh, president of the commercial vehicles business unit of Tata Motors, said in a recent interview.
Why Last-Mile Operations?
In Tata Motors Executive Director Girish Wagh's opinion, The push for electrification in the last mile is coming from the significant advantage of operating cost that an electric vehicle has over the conventional version and stricter emission regulations have pushed up the cost of diesel SCVs, and at the same time with the lowering of the cost of batteries, the price gap between the diesel SCV and the electric counterpart is gradually coming down.
Most importantly electrification (of SCVs) today is more about many of these e-commerce companies, which have their net zero-emission targets. They want net-zero emissions in their operation and therefore are looking at a respectable electric vehicle for last-mile transportation.
This is where the company tries to hold the grip, especially because Tata's main competitor Mahindra and Mahindra Ltd (M&M) has already released the Treo Zor, an electric rickshaw. Amazon has already partnered with Mahindra Electric, M&M's electric vehicle division, to bring the Treo Zor to the market. 
As e-commerce businesses like Amazon and Flipkart introduce more EVs, the small CV market is projected to benefit from the approaching electric wave. For example, Amazon plans to have 10,000 electric vehicles in its delivery fleet in India by 2025
Tata Synergy
On synergies drawn from the passenger vehicles units of the company for the EV, Wagh said, "We do have a good amount of synergies at the backend in terms of electric vehicles, especially SCVs. Since both are battery electric vehicles, the technology is quite similar. In fact, the battery packaging in small commercial vehicles is easier as compared to cars. So, the form factor is not so much of a challenge".
At this point, you might wonder what is the synergy 
Synergy is nothing but the philosophy of collaborating all Tata companies like Tata Power Ltd, Tata Consultancy Services, Tata Chemicals Ltd, and Tata Motors all on the development of electric vehicle infrastructure.
And about form factor, in simple words Form factor is a design aspect that defines and prescribes the size, shape, and other physical specifications of components. In his statement, Wagh might have meant the design aspects of incorporating battery into any of their current SCV body.
So we can expect our packages to be delivered in one of Tata's electrically powered SCV in near future!!!