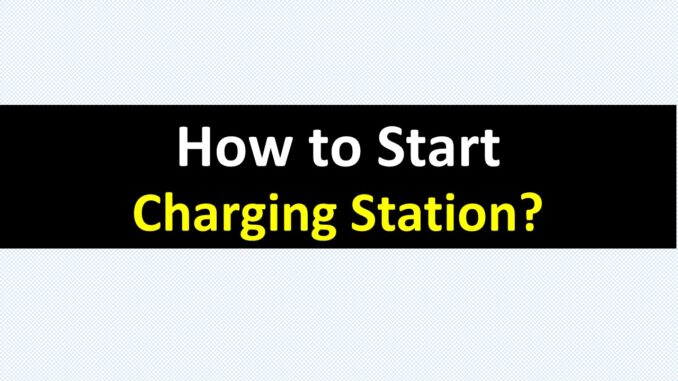 As India seriously considers the possibility of a sustainable future in the aftermath of the fourth industrial revolution, technological achievements such as electric vehicles are dominating most discussions.
The introduction of charging stations is quickly transforming the Indian business landscape. It will be equivalent to opening a petrol pump with unlimited and long-term business potential in India. Charging stations are on their way to conquering the global market in the following years.
Need Of Charging Stations
We know that by now, everyone knows the importance of having a charging station. Companies and entrepreneurs are rapidly adopting digital means of conducting businesses to stop the loop of increasing pollution and limit the use of natural resources, both of which increase CO2 emissions in our environment. 
Also, our country is currently riding the EV wave. Total registered EV volumes across all segments combined reached 3.13 lakh units in 2021, according to data from the Union Ministry of Road Transport and Highways. It goes on to say that in 2022, registered EV sales will exceed one lakh in just two months. According to the NITI Aayog study, the country's goal in the EV business is to have a 30% market share by 2030. All of these statistics indicate that India is steadily progressing toward an EV revolution.
Now let us analyse the financial side of setting up an EV charging station.
EV charging station: How much does it cost?
In any business endeavour, capital and operational expenditure are the two components that determine a company's financial viability. The operational costs of maintaining a business are also crucial to its survival. There are almost no fixed operational expenses in the case of charging stations.
The Indian government has determined that no licence is required to construct charging infrastructure as long as it meets "Ministry of Power" regulations. As a result, no specific permit is required to transport, distribute, or exchange power to charge electric car batteries. As a result, the cost of building EV charging stations is restricted to chargers, electricity, software, infrastructure, advertising, workers, and maintenance. It is a huge attraction from an Indian point of view.
Experts estimate that the average cost of constructing an EV charging point ranges from Rs 1 lakh to Rs 50 lakh, depending on the type of chargers installed. The cost of a new electrical connection, civil work, technicians and labour, maintenance, advertising, marketing, EVSE management software and integration, and a site contract are all standard charges.
Steps To Follow
Here is the general outline of the procedure for starting an EV charging station.
Location – You need the location to start the charging station
Quotation for Equipment – You need to get the quotation for the equipment such as chargers, transformers, etc. and finalize the supplier for the setup.
DISCOM – You need to contact the DISCOM in your area.
Setup Charging Station – You can now set up your charging station.
DISCOM Approval – A person from DISCOM will visit and inspect the setup and will give you a clearance certificate.
Now that you're familiar with the procedure, let's look at the requirements.
1. Land Requirement 
To begin, you will need land to build the charging station. This may be your private land, or it could be leased, or it could be the parking lot of a mall, a housing society, or any other commercial building. 
The location of a charging station is crucial to its success. The required area is determined by the viability of the site, the number of charging piles, the type of EVs to be charged, and other activities on site. The charging equipment itself does not require more than 10 square feet of area, but what is more crucial is the room for vehicle parking and circulation. The minimum area would be 100 square feet.
2. Electricity
You must have an electricity connection as well as a transformer. This connection and setup will also necessitate the use of 33/11 KV heavy-duty wires. Other electrical components will also be required.
3. Infrastructure
Then there is some civil work for charging towers, and shades above the cars if it is open parking. Also, the entry and exit of the charging station should be smooth without any discomfort. This is important as it is mentioned in the guidelines to have smooth vehicle movements. You'll also need CCTV cameras and a little flooring work just as you have seen at any other CNG station or a petrol pump.
4. Charging Tower and Equipment 
There are 2 types of charging towers – AC & DC, we'll discuss these in detail.
Fast Chargers
CCS chargers, CHadeMO charges, and type 2 AC chargers are examples of fast chargers. CCS and ChadeMO chargers are for four-wheelers. All 2-wheeler, 3-wheeler, and 4-wheeler vehicles require Type 2 AC chargers.
Slow & Moderate Chargers
Bharat DC 001 and Bharat AC 001 are examples of slow/moderate chargers. The Bharat DC-001 is further classified into two types: 48V output and 72V or higher output. The Bharat DC-001 48V output charger is suitable for all two-wheeled, three-wheeled, and four-wheeled vehicles. Only 4-wheeler vehicles can use the Bharat DC-001 72V or greater output charger. In addition, the Bharat AC-001 charger is compatible with all 2-wheeler, 3-wheeler, and 4-wheeler vehicles.
5. Manpower
Because most good charging infrastructure OEMs supply a complete solution (equipment + software + mobile app), a decent charging station setup is unmanned. Everything is done online, from payment collecting to bill production. As a result, aside from the physical security of the machine, no labour is required on site.
6. Marketing
When you're just getting started, online marketing is the best way to get your name out there. However, the most successful techniques to help your business grow are to use YouTube, Facebook, LinkedIn, advertising, and blogging.
7. Licensing
This company has a big advantage when it comes to licencing. There is no need for a licence. The development of charging stations in India does not require a licence, according to the Ministry of Power.
Getting Into Specifics
Now that we have an idea of the requirements of a charging station let us look at some approximate figures.
New Electricity Connection (250 KVA): Rs.7,50,000 
Civil Works: Rs. 2,50,000
EVSE Management Software + Integration: Rs.40,000
Technicians, Manpower, Maintenance etc: Rs. 3,50,000 / year
Advertising and Promotion: Rs.50,000
Land Lease (if the land is at lease): Rs.6,00,000 / yearly
Total Approximate: Rs. 40,00,000 /- (First year including setup and if the land is at lease)
Annual maintenance from the second year: Rs. 10,00,000 /- (Including land lease)
| | | | | | |
| --- | --- | --- | --- | --- | --- |
| Charger Type | CCS – 60kW | CHAdeMO – 60kW | Type 2 AC – 7/22kW  | Bharat DC-001 – GB/T | Bharat AC-001 |
| Approximate Cost | Rs.12,50,000 | Rs.12,50,000 | Rs.1,00,000 | Rs.2,40,000 | Rs.60,000 |
Profitability: EV Charging Station
Now comes the important part: what will be the profit? As you are aware, you must charge the electric vehicles that visit your station. DISCOM will provide you with electricity. DISCOM will offer you electricity at a set price per unit. Then you may add your margin to it and begin charging the electric vehicles, you might expect a margin of Rs 2-3/unit.
Let us now look at the profits in different scenarios
Profit : Worst-Case Scenario
Assume you've established a plant with all of the chargers, the capacity of this charging station is 3240 kWh/day. Assume the charging station is operational 6 hours a day.
According to statistics, the total usage in a day is 810 kWh. Assume the charging station is operational 365 days a year, exactly like any other gas or fuel pump, and that the power margin is Rs 2/unit.
This results in a yearly revenue of Rs 591300. If the margin is raised to Rs 3 per unit, the total annual revenue is Rs 886950.
Profit: Average Case Scenario
In this scenario, let's assume the vehicles have increased and now the station stays functional 12 hours a day. This means consumption of 1620 kWh/day.
With a margin of Rs 2/unit, the net annual revenue will be Rs 1182600. If the margin is increased to Rs 3/unit, the net annual revenue will be Rs 1773900.
Profit: Best-Case Scenario
Assume that there are enough electric vehicles in your neighbourhood and that your charging station is operational 20 hours a day. This equates to daily use of 2700 kWh.
With a profit margin of Rs 2/unit, the net annual income will be Rs 1971000.
The net annual revenue will be Rs 2956500 if the margin is adjusted to Rs 3/unit.
ROI: EV Charging Station 
We can predict – using the profit situations stated previously.
A charging station that operates for 6 hours can pay for itself in 4-5 years.
A charging station that operates for 12 hours can pay for itself in 2-3 years.
And in the best-case scenario, where the margin is Rs 3/unit and the station is operational for 20 hours per day, you can repay your capital cost in as little as 1-2 years.
Conclusion
Although there are just 2% of EVs in India compared to traditional automobiles, EV sales are increasing and the demand for charging stations is increasing daily. If you have the financial means and desire to become an entrepreneur with a bigger vision, the answer is YES. Now is the moment to invest in the future, specifically EV charging stations.
You May Also Like