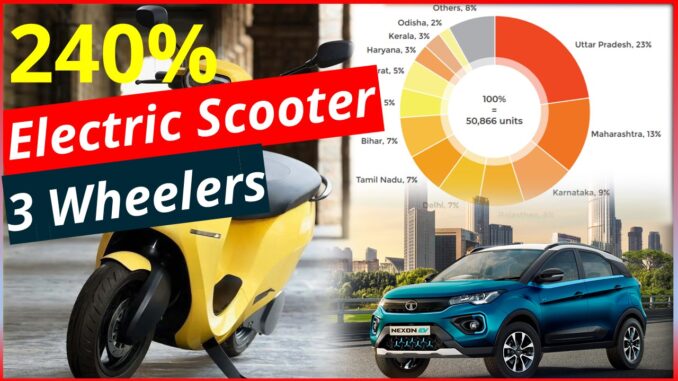 The use of Electric vehicles use has been growing in India over the last few years. Electric two-wheelers in particular, are propelling EV adoption in India, boosted by the pandemic's greater need for personal mobility. According to a recent study, the number of electric vehicle sales increased by 240% year over year in December 2021.
Several policies are being established to reward and promote electric car makers, as well as to give incentives to early users of the technology. For the first time, electric car registrations have topped 50,000 vehicles in a single month, thanks to multiple new model debuts and new firms entering the market.
What Do the Results Say?
According to a survey conducted by JMK Research and Analytics, December 2021 was the first time that electric car registrations surpassed 50,000 units in a single month. According to the data, global EV sales in December 2021 were 50,866 units, representing a 240% increase over December 2020. In addition, this represented a 21% month-on-month (MoM) increase, compared to November 2021.
In the month of December 2020, a total of 14,978 electric vehicles were registered in India. As per the data 42,055, electric vehicles were registered in India in November of last year. According to the survey, electric two-wheelers and passenger three-wheelers accounted for 90% of EV registrations in December 2021. In  3% of total electric vehicle registrations in the month, electric two-wheelers alone accounted for 48.6% of all EV registrations. Electric vehicles made up 5% of the total, while electric freight three-wheelers made up 4.3%.
Leading States
According to the research, Uttar Pradesh has the highest number of electric car registrations in December 2021. It states that Uttar Pradesh accounted for 23% of overall EV registrations last month, with over 10,000 units registered. The top five states were Maharashtra (13%), Karnataka (9%), Rajasthan (8%), and Delhi (7%). In December 2021, Tamil Nadu accounted for 7% of total electric vehicle registrations in India.
Two Wheelers Dominates
Electric vehicles are gaining popularity in India, owing to a surge in demand for electric two-wheelers in particular. A number of reasons are driving the increase in demand and sales of electric automobiles. Higher awareness of vehicular emissions and their contribution to global warming increased preference for personal mobility, availability of a diverse range of EV policies that promote green mobility, significantly lower cost of ownership, and reduced-price parity between EVs and ICE vehicles are just a few examples.
Companies are Also Performing Well
According to the data, overall high-speed-electric two-wheeler sales in the nation reached 24,725 units in December of last year, marking a 10% year-over-year growth and a 444 % increase in registrations. In December 2021, the top ten companies in this market, which included Okinawa Autotech, Hero Electric, Ampere Vehicles, Ather Energy, Pure EV, and others, accounted for 94% of all registrations.
While Hero Electric's sales have been stable since the beginning of 2021, Okinawa's steady rise has finally eclipsed the market leader in the last month of the year. Tata continued to be the market leader in electric vehicles. Last month, it took the lead in e-car sales, accounting for 93% of all registrations in December 2021.
Conclusion
From the data and research results, it is evident that Indians are eager to accept electric vehicles and it is a very good time for electric vehicles in India. People will easily adopt them  if they can find practical solutions to their worries. While there are concerns about the lack of charging infrastructure in the nation, this is being addressed, with charging outlets being installed at petrol stations and housing societies. Apart from key players such as Tata Power, which plans to build 10,000 charging stations in Indian cities, the government plans to build up to 70,000 EV charging stations across the country in the next few years to strengthen EV charging infrastructure and accelerate the adoption of electric vehicles.