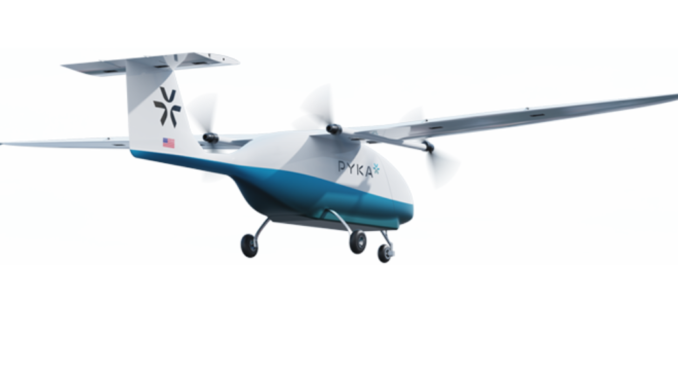 Pyka, the global pioneer in autonomous electric aviation technology, unveiled the Pelican Cargo, the latest addition to its fleet of purpose-built industrial aircraft. Pelican Cargo is the world's largest zero-emission freight aeroplane and the first autonomous vehicle of its class, with unparalleled payload and range capabilities.
The Pelican Cargo uncrewed aerial system has been developed for last-mile express logistics operations, with Pyka noting that it would be particularly useful for delivering cargo to remote rural communities.
Technical Features of Pyka
Pelican Cargo features a 50-kWh Li-ion battery pack that offers a per-charge range of up to 200 miles (320 km) – plus a 20-minute reserve. Four 25-kW (33.5-hp) electric motors power the two fixed-pitch props to the front and back of each wing, and the aircraft benefits from a fully redundant propulsion, controls and sensor suite.
The cargo flyer measures 24 ft (7.3 m) in length and stands 7 ft (2.1 m) high. A 400-lb (181-kg) payload is front-loaded into the 66 cubic feet (1.87 cubic m) cargo space via a pop-up nose and sliding tray. The aircraft has a total wingspan of 38 ft (11.5 m), and needs a 600 x 50 ft (183 x 15-m) paved/gravel/dirt/grass runway to get in the air, after which it flies at a cruise speed of between 80 and 90 knots (92-103 mph/148-167 km/h).
Pelican Cargo's autonomous flight capabilities are built around a proprietary flight engine rocking six processors spread over two computer systems, forward-facing LiDAR plus GPS, radar and laser technologies. The company reckons that logistics companies will be able to operate the aircraft with minimal training.
With fully redundant propulsion, controls, a sensor suite, and a backup parachute system, like the Pelican Spray, the Pelican Cargo can also fly at night thanks to GPS and Laser/RADAR-based navigation.
"Pelican Cargo will have a significant positive impact on people's lives," says Pyka Chief Executive Officer and Co-founder, Michael Norcia. "We designed this plane to eliminate C02 emissions from the logistics chain while offering a significant speed advantage over ground transportation and operating costs at a fraction of conventional air transportation."
Pyka has obtained pre-commitments of over 80 orders and options for its Pelican Cargo from three launch customers spanning North America and Europe, following the commercial success of its agricultural spray aircraft, which resulted in a $37 million Series A raise in April 2022. The plane is currently being tested rigorously at Pyka's flight test facility in Northern California. Pelican Cargo's first commercial operation is scheduled for the second half of 2023.
"We operate a carefully selected fleet of UAS platforms across our markets, each of which has been chosen due to its operational capabilities and unrivaled performance," says Alex Brown, Director, Skyports Drone Services, one of Pyka's launch customers for Pelican Cargo. "Welcoming the Pelican Cargo aircraft into our fleet will enable us to continue on our mission of solving complex logistical and operational challenges with tailored drone services. We know a thing or two about drones and in our eyes, the Pelican Cargo is the most advanced product in its payload class on the market. We're excited to kickstart operations with Pyka and put the Pelican through its paces."
You May Also Like