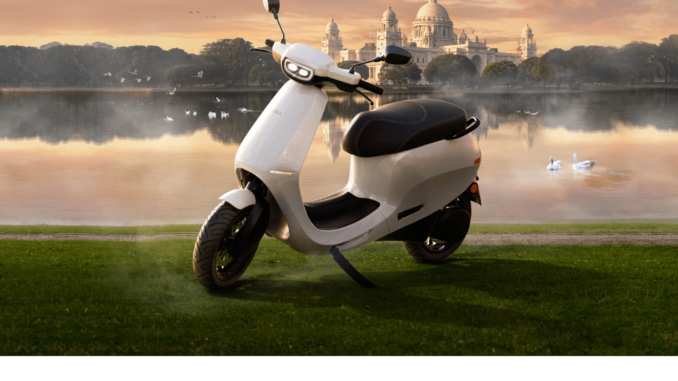 Ola Electric, India's largest EV manufacturer has registered an incredible 20,000 unit sales in October 2022, the highest ever for any EV company in India. 
Ola Electric: Country's Top E-Scooter Company
Ola Electric has registered an incredible 20,000 unit sales last month. This makes Ola Electric the country's best-selling electric scooter manufacturer. Not only that, Ola claims to hold a 50% market share in the premium scooter segment across ICE and EVs, with a 60% M-O-M growth over September.
With Ola Electric touching 20,000 sales in a month by selling scooters costing Rs 1 lakh, it is expected that the Ola S1 Air will further boost EV sales in India. 
Bhavish Aggarwal, Ola Electric Founder and CEO said, "Today, almost every second scooter sold in INR 1 lac plus segment is an Ola S1. With a robust product pipeline, we will replicate this growth in every segment of two-wheelers. Mission Electric is firmly in our sight and petrol two-wheelers will be history by 2025." 
Ola S1 To Boost Sales 
During the Diwali celebrations, Ola Electric launched its most affordable scooter in the market the all-new Ola S1 Air for Rs 84,999, joining the Ola S1 and Ola S1 Pro. Bookings for the newest member of the Ola S1 family will begin in February 2023, with deliveries beginning in April.
The new Ola S1 Air electric scooter is a scaled-down variant of the Ola S1 and Ola S1 Pro and costs Rs 84,999. Buyers can book this line of e-scooters beginning in February, with deliveries beginning in April 2023.
According to a report by consulting firm RBSA Advisors, India's electric vehicle (EV) market is predicted to develop at a compounded annual growth rate (CAGR) of 90% this decade, reaching $150 billion by 2030.
Ola has also been aggressive in its D2C expansion, with 50 experience centers already operational across the country. Ola intends to open 200 centers in various forms by March of next year.
A Bit Of a Flashback
Ola, which began as India's largest mobility platform and one of the world's top ride-hailing companies, joined the world of EVs by unveiling the Ola Electric Scooters, which were manufactured at its Future Factory, the world's largest two-wheeler factory.
Ola Electric entered the market with the S1 Pro, which had the highest claimed range among Indian e-scooters and featured features unlike any we had before. To top it all off, it came at a reasonable price.
Initially, the company experienced some failures, including major quality issues and sluggish deliveries. However, Ola Electric eventually resolved quality issues and increased production to meet demand.
Simultaneously Ola released MoveOS 2.0, bringing new features and fixing several software faults that users had encountered.
Ola's Tricks Of The Trade
Now let us look at some of the strategies Ola followed to get this massive success.
#1 Competing WIth Bajaj Chetak and TVS iQube
Ola debuted the S1 exactly a year after its launch, for Rs 99,999 (ex-showroom inclusive of FAME II subsidy), the new inexpensive variant (based on the top-spec 'Pro' variant) copied most of the Pro's features but fell short on performance.
This made it a good competitor for the likes of the Bajaj Chetak and the TVS iQube S, which both cost more than the Ola S1 but don't have as many features or a comparable claimed range.
At the same time, the company began expanding its charging infrastructure and even offered an extended warranty plan for the e-battery. This action solidified customer trust even more.
#2 Competing With ICE Scooters
Ola Electric launched the S1 Air at Rs 79,999, which was later increased to Rs 84,999 (both ex-showroom, including FAME-II subsidy). This will make the S1 Air as affordable as 110cc scooters like the Honda Activa 6G, but with significantly lower operating costs.
Shortly after, the MoveOS 3.0 update was announced, which will have new features such as the 'Moods' themes. Furthermore, the company has installed 50 Hyperchargers across the country, with a few more on the way.
#3 The Trade-Off Between Experience & Cost
Ola Electric appears to be gradually maturing into a brand that delivers a complete experience rather than simply the product, with reasonable choices, a growing charging infrastructure, and OTA updates. Furthermore, the company is transitioning from an all-online-no-dealership strategy to introducing Ola Experience Centres in numerous locations.
While the online strategy saves money, the experience centers increase brand awareness and popularity in Tier II and Tier III cities. Moreover, the corporation has been giving some extremely great deals to customers all along, which has helped to enhance sales.
According to the monthly sales figures, Ola's e-scooters not only pose a threat to other premium electric scooters, but also some of the more affordable ones,  and all of this has happened in just over a year!
You May Also Like