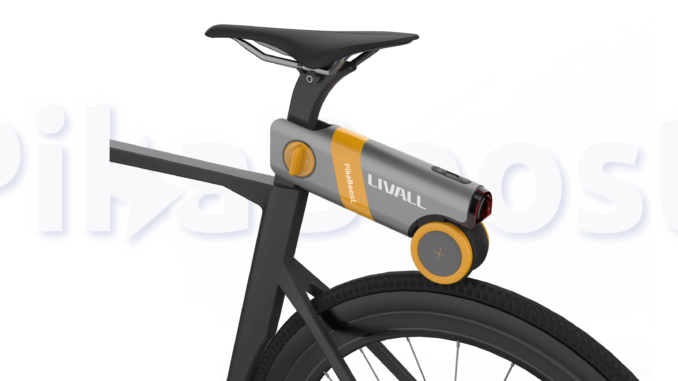 E-bikes are without a doubt the most significant advancement in the world of bicycles since these two-wheeled contraptions were conceived. 
There is no denying that bicycle technology has improved by leaps and bounds in the past two centuries with better materials and manufacturing methods. 
However, with today's crop of electric bicycles, we're seeing the two-wheelers in all sorts of unusual shapes and sizes.
An Easier Way to Get The Feel
It is no secret that the most flashy, technologically advanced E-Bike on the market can cost more than a brand-new car. 
But don't worry, since there are ways to participate in the E-Bikes fun even if you're on a tight budget. Livall's PikaBoost E-Bikes conversion kit is a prime example of this type of technology. You see, for $599-$299 you can convert any old bicycle into an E-Bike by simply strapping this thing to your seat post.
The PikaBoost, designed by the American company Livall, provides you with a taste of a full-fledged E-Bike.
Sure, because it's a generic E-Bikes kit, it'll lack some of the technological features seen on specialized E-Bikes. Nonetheless, it appears to be a gateway drug into the world of E-Bikes, which is ideal for today's generation of people who are afraid of commitment.
The Livall PikaBoost has some real-world benefits in addition to its low price. Assume you're going bike-packing for a few days and are anticipating a long, dull climb that you'd rather skip.
All you have to do is attach this product to your Seatpost and ride like you're on a flat surface. 
On a single charge, the device should be able to travel approximately 30 kilometers, or 19 miles, which isn't too awful. Furthermore, because it weighs only three kilograms, you can easily store it in your backpack or saddlebag when not in use.
The charging time is estimated to be three hours, and the PikaBoost comes with a built-in tail light and a handy USB charger that allows you to charge your phone while riding.
However, doing so will undoubtedly reduce your range. Furthermore, you can choose between three riding modes with this bolt-on E-Bikes conversion kit: Hold, Roll, and Sport.
Now let us make a list of things that make PikaBoost attractive,
It is affordable.
It's easy to attach compared with other conversion kits.
It has got a decent range and charging time.
You won't have to do anything to your existing bike to attach the motor.
It has considerable Torque and speed considering it's a conversion kit.
Some Practical Thoughts
On paper, this E-Bikes conversion kit appears to be the ideal way to get started with an E-Bikes on a budget. 
However, we know that not all that glitters is gold, and the PikaBoost is likely to be the same. It will never work as smoothly as a hub-motor or mid-drive-equipped E-Bikes, as is the case with most E-Bikes conversion kits of this type.
Expect to stop sometimes to ensure the roller is aligned with the back wheel. Also, ensure you're not riding a full-suspension bike because this kit will only operate with a static rear wheel.
Having stated that, these concerns will not diminish any of the previously described real-world benefits. It is right to say that this thing is worth considering, especially given how appealing the pricing is and especially for someone who's interested in getting into E-Bikes but isn't quite ready to commit to a proper one financially.
You May Also Like