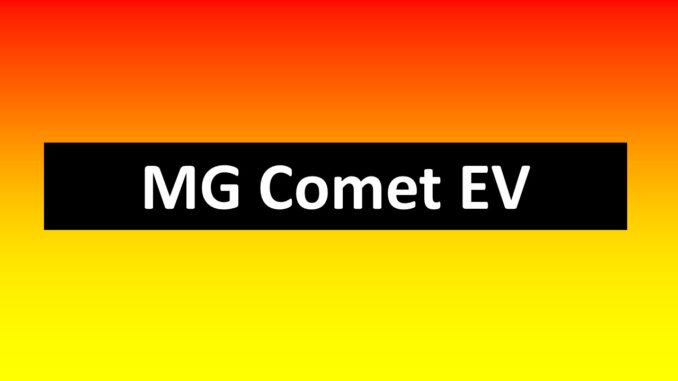 MG Motor India launched its first electric car MG ZS EV in India in 2020. MG Motor is a British car maker, and it is expanding its EV portfolio with the addition of a small electric car.
Today we are going to discuss MG Motors' new electric car – Comet EV.
The company sees a market in small electric cars which are affordable by many people and useful for city travel.
It's a two-door electric car that is going to be manufactured in India and the company invests 800 crore rupees for this purpose. The expectation is to ramp up the production to around 3,000 units per month gradually.
Features of Comet EV
As we discussed before, the car is a two-door small vehicle.
The company claims the vehicle will have a range of 230km on a single charge and it could travel 170-180km per charge on average.
The battery capacity of the vehicle is 17.3 kWh and it can be fully charged in around 7 hours. The vehicle will be equipped with automatic transmission, two front airbags, and a reverse parking camera.
Cost of the vehicle
MG Motor India President and MD Rajeev Chaba say "As per our survey, people spend Rs. 5,000 a month for petrol. In addition to that, maintenance costs are also huge." A person who drives 1000 km a month has to pay only 500 rupees if the vehicle is MG Comet EV.
The cost of ownership of Comet EV would be around 700 Rs per month.
They are not going to sell this vehicle to all categories of people. The plan is to focus on city commuters rather than fleet operators.
The bookings will be opening by May 15th and the expected ex-showroom price is in the range of 10-12 lakh rupees.
READ: Ather 450X Experience after 4000 km or ride
Features in Short
Two-door
230 km range
170-180 km average range
17.3 kWh battery
7 hours to charge.
10-12 lakh
MG Motor's expectations
In India, the EVs are less than 2 percent but this number will go up. For India, the tipping point would be when the percentage rises to 10. There should be more electric cars in the price range of 10 lakhs.
MG Motors says that the Indian electric car market reached around 50,000 units in the last financial year, which is likely to be around 1.25 lakh units this year.
The company has already sold around 50,000 MG ZS Evs so far and expects 1,000 units a month soon. With the launch of the Comet EV, the numbers would be around 3,000 units a month.
Similar to other vehicle manufacturers, MG Motors also have some expansion plans for electric vehicle sales. They expect to sell 25-30 percent of total sales to be EVs (both ZS and Comet).
Conclusion
Since the new car is launched by an established car company, people will expect a quality product. Let's hope the MG Motos could meet the expectations of the potential customers with their new Comet EV.
If they could address the most common hurdles such as the price and range, etc. then people will definitely go for electric vehicles.
If the driving pattern is similar for a person and he travels a distance less than the range of the EV, he could think about this vehicle.
You May Also Like