I have been driving Ather 450X Gen 3 for a while. It was bought 3 months ago, and I traveled around 4225 km so far. I am so excited to drive an electric scooter than an IC engine motorcycle now. It's not only about the savings the scooter brings but also about the performance that it delivers.
Today we are going to discuss the reason why I switched to electric, the electric vehicle experience, my likes and dislikes about the vehicle, and some expected additions that might have improved the user experience.
Why have I bought an "Ather 450X" Electric scooter?
A few months ago, I switched my job location, and my office is around 28 km away from my home.
So, I have to travel around 28 km from home to the office every day. It would be 56 km of drive every day and a few kilometers on holidays.
I used to travel by IC engine scooter that has a mileage of 40 km. My travel pattern is almost fixed. In technical terms, I follow the same driving cycle every working day.
Roughly, I travel 1400 km a month and 16800 km a year.
The total expense would be 45,360 Rs for fuel in a year.
Then I thought of switching to an electric scooter. Ola and Ather were my two choices and I tried to contact both brands' customer experience centers. I was not happy with Ola's response to the online test ride booking request.
Then I did a test ride of both scooters and decided to go for Ather 450X Gen 3 mainly for the following reasons.
Impressive technical specifications and battery warranty
Availability of service centers near my location
Positive feedback from my friend who has been using it for more than one year.
Availability of fast charging networks near my location
Expenses that I considered…
Ather 450X provides you with a true range of 105 km. You will get that range on the road if you use eco or smart eco mode. If we use 'Ride' mode, then the range would be 85 km. In this mode also, if you drive at a lower speed, then you can achieve more range.
In short, the scooter shows almost the true range that you will get on the dashboard. For calculations, I used the value of 85 km of range for calculation.
In a month I have to charge the scooter 16,800/85 =198 times to travel 16,800 km.
The usable capacity of the battery is 3.24 kWh whereas the installed capacity is 3.7 kWh. I assumed the battery and charger efficiency of 90% (it might be greater than 90 but I assume it for worst case scenario) and hence it requires 3.6 units of electricity to fully charge the 3.24 kWh battery.
It consumes 198 x 3.6 = 713 units of electricity per year. With a rate of Rs 7 per unit, it costs 4991 Rs.
The savings in fuel cost is 45,360 – 4991 = 40,369 Rs.
Let's assume that the on-road price of a Petrol Scooter is 96,000 (Ex-showroom + Registration + Insurance) and Ather 450X costs 1,73,100 in Kerala.
If we try to equate the total cost (initial + running) of both scooters the equation would be as follows.
96,000 + 45,360 * X = 1,73,100 + 4991* X
Where X is the number of years by which the total expenses become equal.
If we solve this equation, then it gives the value of X as 2.
Even though we don't consider the maintenance costs and other expenses for IC engine vehicles, the cost parity happens in 2 years. That is in 2 years the total expense of buying the scooter and fuel consumption for the period will be equal to that of the price of Ather 450X and its charging expenses.
If you include the maintenance charges then the period will again reduce from 2 years.
After two years I'm going to save 40,369 Rs per year as long as I drive the electric scooter. Since the battery warranty is 5 years, I would drive it for 3 more years for sure. So, the savings will be 1,21,107 Rs.
Assume that I'm going to sell both the scooters after 5 years and get an equal price for both the savings will be 1,21,107 Rs. Even if I get 0 Rs for an electric scooter and 21,000 Rs for IC engine scooters after 5 years then the savings will be 1,00,000 Rs.
(Please note that I haven't considered the inflation, possible price hike for petrol and electricity, maintenance cost, insurance charges, etc. in this calculation)
And… I decided to buy Ather 450X Gen3 after doing these simple analyses.
What is my take?
Now, let's check out what I liked and what I'm not happy about the vehicle after driving it for around 3 months.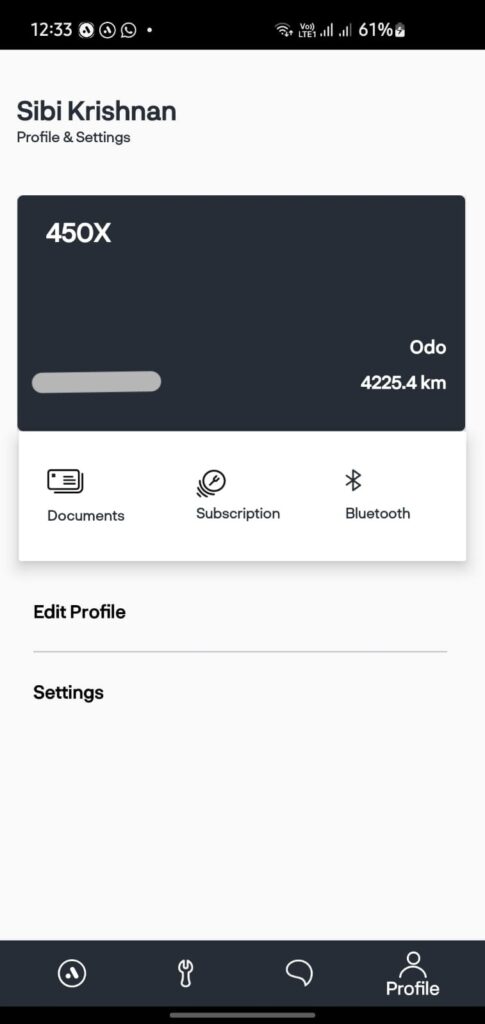 What I like about the scooter?
#1 Performance of the vehicle
I have driven both IC engine scooters and electric scooters. I really like the experience of instant acceleration, vibration-free working, and low-noise operation of the electric scooter.
The suspension is a good one as far as scooters are concerned. The seat and suspension combo makes the long drives painless.
The braking system is also nice. The combi-disc brakes help you to have better control over the vehicle. It doesn't equip with an antilock braking system. But the combi braking is sufficient since we drive the vehicle gently.
My driving cycle contains several ups, downs, and turns. I'm happy about the performance of the vehicle in all the conditions.
I used to drive in Ride, and Sport mode and the vehicle is just more than what I expected in electric scooters.
#2 Less maintenance
For the first few months, the maintenance cost is zero for me. The first maintenance is scheduled at 5000 km and I don't expect higher maintenance charges for this scooter. If I had driven IC engine scooter, I would have spent form oil, lubrication, brakes, etc. by this time.
#3 Battery capacity and range prediction
The vehicle almost travels the expected distance shown on the dashboard. In "Eco" mode the true range is 105 km. You will get that for sure on a straight road without a slope.
I used to drive in "Ride" mode and it shows the expected range as 85 km. In this mode, I could achieve more than 85 km frequently. If you drive at a lower speed, you can achieve more range.
The installed battery capacity of the scooter is 3.7kWh and the usable capacity is 3.24kWh. If the capacity faces, I guess they will release the reserved capacity. I'm not sure about their plan.
Anyway, Ather assures a warranty of 5 years for the battery. It covers the performance degradation of the battery as well. That means, if the battery's State of Health falls below 70% at any time in 5 years, they will replace it.
My biggest concern about electric vehicles is battery degradation. The battery replacement cost is a bit higher, and it would ruin the EV experience.
I knew this because we used to drive another electric scooter a few years ago. Read this post to know more about it.
The "Battery Protect" by Ather that provides 5 years of warranty is impressive.
#4 Driving experience – slow driving, overtaking, etc.
The electric vehicle driving experience is a little different than IC engine vehicle driving. It's a low-noise vehicle with high performance. I really like it.
People will not get to know when the vehicle approaches them.
You might need to blow your horn sometimes when you drive slowly and overtake another vehicle.
Ather 450 X provides good control in turns and slow drives. You could provide torque to the wheel precisely using the electric drive system in the vehicle. I feel it is more appealing than that in an IC engine scooter. We could drive as slow as a few km/hr speed.
The scooter accelerates quickly and it's helpful when you overtake another vehicle on the road.
But if you do quick acceleration, it drains the battery faster. [Energy calculation]
Reverse driving is another feature that I really liked. In "parking assist" mode you may drive the vehicle forward and backward at a lower speed. I use it frequently to park the vehicle.
Another interesting thing is that I need not go to the petrol pumps to fill the fuel. Your vehicle can be charged at your home itself. That's a cool experience.
#5 Dashboard
Ather 450X dashboard is too good I would say. It looks simple and user-friendly, yet highly useful. The inbuilt navigation system, range prediction, distance and clock display, easy access to parking assist, etc. are some useful features.
Ather 450X stores your driving license, vehicle registration, and insurance documents for you. The updated software helps you to zoom into the document. So, no need to carry a hard copy of the documents.
What I don't like about the scooter
There are a few things I don't like about the vehicle. It's completely my personal opinion. You might find them fine for you, but I feel there is some scope for improvement.
#1 Appearance
If we investigate the vehicle design, I don't like the back view much.
The vehicle lacks a central stand and I feel it is quite difficult to check the condition of the wheel bearing. While parking in the conjured area, the center stand is a necessity. Now it occupies more space.
#2 Saree Guard
There is a saree guard attached to the vehicle. That is a really bad and unprofessional design. It doesn't go along with the vehicle's design. It looks like they have bought it from an iron smith and fit it on the vehicle for name's sake.
#3 Headlamp
Another issue that I noticed and annoyed me is the head lamp's focus. The low beam lamp itself points towards the eyes of the car drivers in the opposite direction. The high-beam lamp worsens the situation further.  It points around 20 degrees upward from the road level and does not sufficiently illuminate the road.
I would like to check it with the people in the service center.
I liked other things such as the longer seat, flat footboard, Indicators, etc.
What could have been included in the scooter?
Ather 450X comes with a lot of interesting features and impressive performance, I would like to suggest a few more additions to the vehicle. It could have been better if It includes.
#1 Speaker for prompting directions from the navigation system.
Currently, I open the navigation system in the scooter and mobile phone simultaneously to move accurately to the location. The voice from the mobile phone is a useful addition to travel. If the scooter itself has a speaker, then we could have avoided this.
#2 Central stand
As I told you before, the central stand is necessary while parking in a congested area, cleaning vehicles, and checking the wheels.
#3 Pass switch
I feel it is a necessity to have a pass light switch so that we can use it when we overtake vehicles. This could be a simple and useful addition to the vehicle.
#4 Customizable display
The dashboard display is neat, simple, and useful. It would be better if some customizations were also possible. For example, the position and size of the clock, speedo meter, etc.
These are just my suggestions. The vehicle is cool even without these features. I really liked it and looking forward to driving it for a long period of time.
Conclusion
If you are going for an electric scooter, it's not always about fuel saving and eco-friendly operation, it's about the performance as well. In my opinion, we will never happily go back to any IC engine scooters once we start riding an electric scooter.
If you are planning to buy an EV and are cautious about the returns then do simple math to calculate the payback period. If you travel less distance then the period is going to be long.
If you drive some distance every day, the distance is less than the range of the vehicle, and most of the travel is to a preplanned location then the EV will best suit you.
You May Also Like