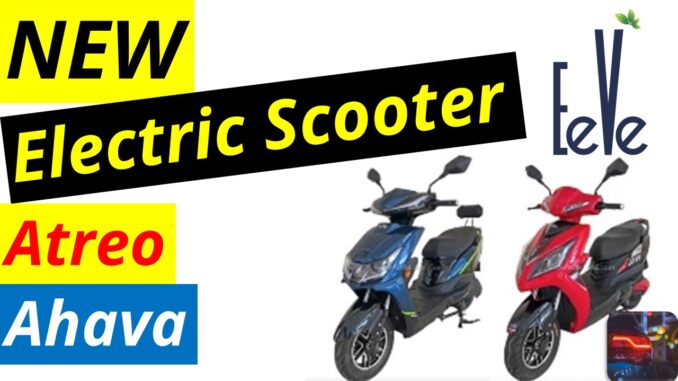 EeVe India has launched two more new electric scooter in Indian market. They are named Atreo and Ahava which means 'king' and 'loved'.
EeVe is an electric two wheeler manufacturing company that empowers the ecological sustainability, with its futuristic, noise and emission free vehicle.
They have already launched 4 electric scooters named Xeniaa, 4U, Wind, and Your.
Now, they have two more electric scooter variants on the market. Both of them have a warranty of 5 years and battery warranty is 1 year.
EeVe says that the Atreo has an all-electric range of 90 to 100kms and Ahava travels 60-70km on a full charge.
The estimated running cost of these scooters are 15 paisa per kilometer.
Ahava and Atreo have been embedded with features such as geo tagging, geo fencing, immobilization, etc. The most important upgraded features of these scooters are the high efficiency drive to provide super long driving range and patented batteries with longest life cycles.
The scooters have other standard features such as Daytime Running Lamps (DRL), stylish alloy wheels, sharp design lines, and more.
The main difference between the models are the electric range.
The exshowroom prices of Atreo is Rs. 64,900 and Ahava is 55,000.
EeVe is looking forward to establish themselves as one of the pioneer manufactures of electric scooters in near future.
Conclusion
EeVe is one of the electric car stratups in India. They have 4 electric scooter variants in the market and now they are adding two more to the line up.
Key points
EeVe India launches two more electric scooters – Atreo and Ahava
You may also like