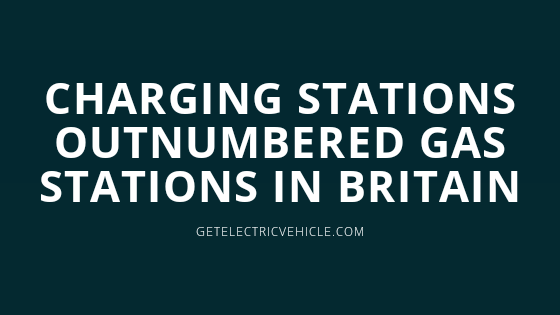 It's good news for all EV enthusiasts! Electric car charging stations are now more than that of gas stations in Britain. Charging stations outnumbered gas stations in Britain. What about the number of electric vehicles?
The US is another major electric vehicle market. But the charging stations are still far behind the gas stations in America.
Charging stations and Gas Stations in Britain
Nissan had compiled the data of charging stations and gas stations. They found out that the number of gas stations is being declined and charging stations are increased.
There are already almost a thousand more public places to charge electric cars than there are forecourts to pump petrol in the UK.
In numbers, this is 9,300 EV charging locations compared to 8,400 fuel stations. [reference]
Almost 80% of UK petrol stations have closed since 1970, while the number of electric vehicle charging locations has increased from a few hundred in 2011 to more than 9,000 in August 2019.
The average distance between any given location to the nearest charging point is 3.77 miles in England.
Does it make sense to compare charging stations and gas stations?
For EV enthusiasts, it's always good news that the charging stations outnumbered gas stations. Does it really make sense to compare the number of charging and gas stations?
As far as the total share of EVs in the automobiles are concerned, the comparison of the charging and gas stations doesn't make sense.
Why?
EVs can be charged at home but IC engine vehicles cant
Number of EVs are lesser than IC engine vehicles
Availability of private charging stations
Read the detailed post: Does it really make sense to compare charging stations and gas stations
Conclusion
Electric cars are getting popular day by day. World's major vehicle manufacturers also declared their plans about electric Vehicles. They had started the production as well.
There is no wonder if electric Vehicles outnumber the gasoline vehicles in the near future itself.
Did you enjoy reading the post? Consider sharing with your friends and follow us for regular updates!
Key points
Electric car charging stations outnumbered gas stations in Britain
In the US, gas stations are more than the number of charging stations
You may also like