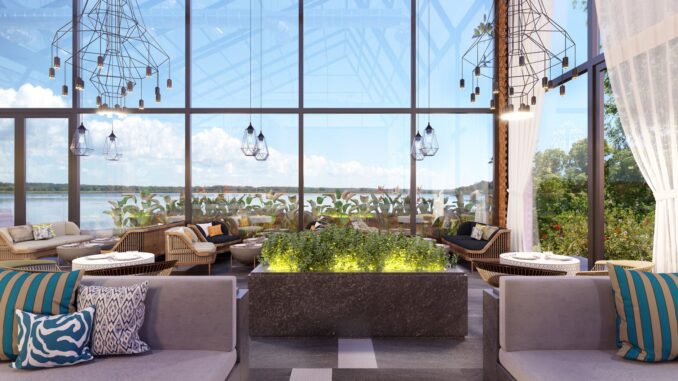 Audi strives to make charging your electric vehicle as pleasurable as possible.
By the end of 2021, the premium auto brand Audi launched the "world's first charging hub" in its native nation of Germany. But it's not like a gas station for electric vehicles. Instead, the reservation-only hub has a comfortable lounge where you can unwind while your battery charges.
Adding a Bit of Luxury 
The charging launch, which is located in Nuremberg, is part of a trial program aimed at making life easier for electric vehicle owners who live in cities, particularly those who do not have access to their own superchargers. 
According to a press release, the station has six charging outlets that are powered by 2.45 MWh of interim storage and an extra 200 kW of green energy.
"We want to use it to test flexible and premium-oriented quick-charging infrastructure in urban space," Ralph Hollmig, the manager of the project, said in a statement. "We're going where our customers don't necessarily wake up in the morning with a fully charged electric car and at the same time thinking about increasing charging demand in the future."
Seems Crazy Yet Makes Sense
According to Audi, those ports will also be quite powerful. They'll each have 320 kW of charging power, which means they'll be able to add 62 miles of driving range to the E-Tron GT in just five minutes and charge it from 5% to 80% in around 23 minutes. Around 80 electric vehicles will be able to utilize the hub each day, according to the company.
Of course, that's nowhere near as fast as filling up a typical car with gas (although that may soon change). As a result, the hub contains a well-furnished waiting room on the second floor. While your EV charges, you may relax or work in the modern area, which will have couches, TVs, WiFi, and self-serve coffee and vending machines. You also won't have to worry about amassing a large bill while you wait because according to the company, each kilowatt should cost around only 35 cents.
At least for the time being,  this is not a walk-in service, you won't be able to simply drive up to the hub with your electric vehicle. charging appointments must be scheduled ahead of time. They're also only available to E-Tron owners with Plug and Charge capability and a valid charging service contract. 
That may seem restrictive, yet a good start.
What's More to Know?
At the Nuremberg plant, Audi will concentrate on the development of its new charger booking system. Customers can book chargers through the MyAudi app, and the charger can then authenticate the transaction once it's plugged into the car (if it has "plug and charge" capability).
A 200 square meter (2,153 square ft) barrier-free lounge, an exchange station for electric bike batteries, an electric scooter loan service, a just-in-time food delivery service, an upscale vending machine, and mobile car care are all part of the Audi charging lounge.
Audi previously stated that it intends to establish six of these hubs as part of a feasibility study prior to a mass roll-out, but it has yet to reveal its expansion intentions beyond Nuremberg.
Don't be surprised if the automaker's concept proves great because the idea has worked earlier for other companies.