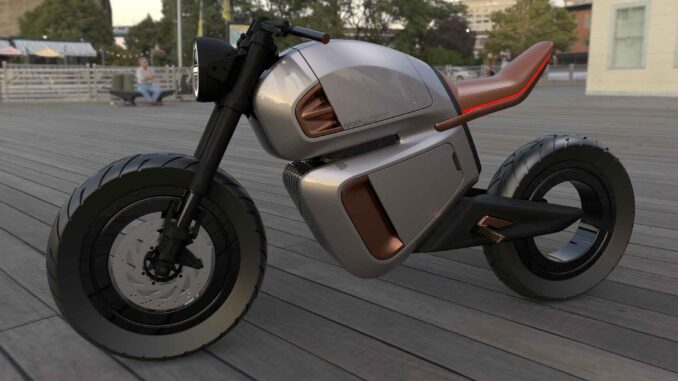 At the EICMA event, a fully electric motorcycle showing a revolutionary power train technology concept that makes use of ultracapacitors will be unveiled to the public. The event will be in Milan, Italy.
Project NAVA Racer & Its History
The project named  NAWA Racer is a zero-emission motorcycle concept that shows how NAWA's next-generation nano-based ultracapacitors, known as NAWACap can disrupt the EV landscape. The technology can be used in a real-world electric vehicle (EV) powertrain by combining them with traditional lithium-ion cells to form a hybrid battery system.
This could be a breakthrough in EV technology because the concept of introducing ultracapacitors to the power train will optimize both energy sources, open up new possibilities for all E-powertrains and will improve efficiency considerably. Which will result in shrinkage in the size of the lithium-ion battery and charging periods, potentially doubling range and extending system life.
The system is said to be completely modular and scalable, making it ideal for two-wheelers but equally applicable to any electric vehicle.
NAWA Technologies was assisted in the initial design of the NAWA Racer concept by Envisage Group, a design and engineering services firm based in Coventry, UK. To create a fully functional prototype NAWA had the help of InnoEnergy, the European Innovation Institute's innovation arm, gathering an expert team of French partners that included NAWA, AKKA Technologies, Pronergy, FAAR, and YSY Group. 
At EICMA 2021 (Booth B79 – Pavilion 18), NAWA will present the next generation of this concept.
Foreseeing The Future
NAWA Racer is designed to turn heads as well as provide a ground-breaking electric powertrain with a range of up to 300 kilometers in an urban environment. With simple, smooth lightweight composite panels and rear arm, as well as an in-wheel motor, the NAWA Racer adds a modern twist to its classic appearance. NAWA Racer will also emphasize customization, with a variety of methods to personalize and future-proof its eye-catching appearance.
 "NAWA Racer is our vision for the electric motorbike of tomorrow – a retro café racer-inspired machine, but a thoroughly modern one. It is lightweight, fast and fun, perfect for an emission-free city commute that will put a smile on your face. But thanks to its revolutionary electric powertrain, which combines NAWA's ultracapacitors with lithium-ion, it also lays down a blueprint for the future."
-Pascal Boulanger, Founder of NAWA Technologies, and CTO
Ultracapacitors
Primary energy sources like internal combustion engines, fuel cells, and batteries work well as a continuous source of low power. However, they cannot efficiently handle peak power demands or recapture energy in today's applications because they discharge and recharge slowly.
Whereas, Ultracapacitors deliver quick bursts of energy during peak power demands, then quickly store energy and capture excess power that is otherwise lost. They efficiently complement a primary energy source in today's applications because they discharge and recharge quickly.
Supercapacitors are used in applications that require many rapid charge/discharge cycles, rather than long-term compact energy storage — in automobiles, buses, trains, cranes and elevators, where they are used for regenerative braking, short-term energy storage, or burst-mode power delivery. Smaller units are used as power backup for static random-access memory
Ultracapacitors v/s Batteries
Despite offering a significant improvement over standard capacitors, ultracapacitors still fall short of batteries in terms of energy storage capacity. Ultracapacitors (which are usually more expensive per unit of energy than batteries) can only hold around 5% of the energy that lithium-ion batteries can.
It would be technically possible, for example, we can use ultracapacitors instead of lithium-ion batteries in cell phones, with some serious benefits: You would never have to replace the ultracapacitor and the phone would recharge very quickly. But the phone wouldn't stay charged for very long at all with today's ultracapacitors perhaps as little as 90 minutes, or five hours maximum.
Ultracapacitors are very effective, however, at accepting or delivering a sudden surge of energy, and that makes them a good partner for lithium-ion batteries. In an electric car,  an ultracapacitor could provide the power needed for acceleration, while a battery provides range and recharges the ultracapacitors between surges.
Think of it this way: The ultracapacitor is like a small bucket with a big spout. Water can flow in or out very fast, but there's not very much of it. The battery is like a big bucket with a tiny spout. It can hold much more water, but it takes a long time to fill and drain it. The small bucket can provide a brief "power surge" ("lots of water" in this analogy), and then refill gradually from the big bucket.