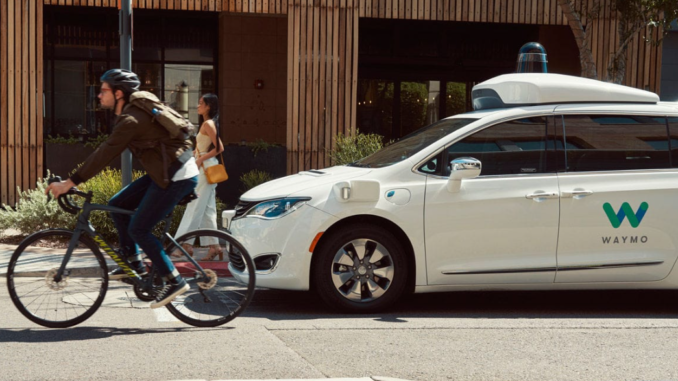 Waymo is all set to offer autonomous rides to the public in their Jaguar I-Pace electric cars. Initially, the rides will be conducted in San Francisco as a part of Waymo's Trusted Tester Program. 
On the program, riders will be able to summon an I-Pace using the Waymo One app and will be prompted to share their thoughts and suggestions on the ride to improve the experience further. Also, each ride will be accompanied by an "autonomous specialist." Onboard for technical and safety reasons. 
Before moving on about Waymo's Trusted Tester program let's establish a fair background about Waymo. 
Waymo: Who Are They? 
Waymo started off as google's self-driving car project. Waymo has been testing self-driving cars on public highways in the San Francisco Bay Area for the past 12 years and began providing rides to employees earlier this year. 
This is the first time the general public will be allowed to ride one. While San Francisco was one of Waymo's early testing sites, it is lagging behind the Phoenix metropolitan region in terms of autonomous ride-hailing commercialization. Because in 2017, Waymo began providing rides to Phoenix residents and though the company didn't make considerable money, the program is said to be a success. 
The All-Electric Jaguar I-Pace
The company announced that the testing phase will be conducted using Jaguar I pace all-electric cars. Jaguar I pace is an award-winning electric car with impressive specs, a stylish look, and a luxurious interior. It takes only 4.6 seconds to reach 0-60 MPH. I- Pace said to have a range of 470 km from its 90 kWh 388 V lithium-ion battery. 
Waymo began their operations and testing with Chrysler Pacifica Hybrid minivans, but in 2018 the I-Pace was added to the fleet. It's the first time all-electric vehicles have been added to the fleet since Waymo's custom-designed EVs were phased out to make space for the Pacificas.
Ok…we have discussed the company, the car and now, what is left is the driver. Well you might think it's an autonomous car and it doesn't need a driver and that is entirely not true and let's discuss why? 
The Waymo Driver
An autonomous car works with the help of a complex system of sensors, software, and algorithms. According to the Waymo site,
"We're building a Driver that's leading the way for the entire industry. Informed by unmatched experience and designed with safety at its heart, the Waymo Driver is our autonomous driving technology that never gets drunk, tired, or distracted."
Waymo claims that Waymo Driver is the World's Most Experienced Driver. They have accumulated huge amounts of data and crucial lessons by driving millions of miles through various scenarios on public roads and billions more in simulation to develop autonomous driving technology further than anybody else.
These billions of KM traveled (in the road and through simulation) Waymo puts them way ahead in the field because in autonomous driving every bits and piece of data accumulated counts. 
The Race
The Cruise which is owned by General Motors has stated that it will begin accepting passengers soon. The startup-turned-GM division has been experimenting with using Chevrolet Bolt EV hatchbacks, but it wants to launch the Origin, a purpose-made electric vehicle that will use GM's Ultium modular battery technology and be constructed at the automaker's Factory Zero in Detroit.
Elon Musk, the CEO of Tesla, has succeeded in boosting the company's stock price by claiming that the value of the company's vehicles will rise in the future as self-driving Robo-taxis are activated. However, it's questionable whether Tesla will be able to keep its word. The only differentiating factor between Waymo and Tesla is, Tesla has to build both hardware and software while Waymo only has to develop only the software part. 
Conclusion
Though the recent polls show that Americans have little faith in self-driving cars and are unconcerned about their branding, but that isn't  Waymo and other businesses from attempting to market the technology. In last month the company announced a $2.5 billion investment round, which will go toward advancing its autonomous driving technology and growing its team. The only differentiating factor between Waymo and Tesla is, Tesla has to build both hardware and software while Waymo only has to develop only the software part.