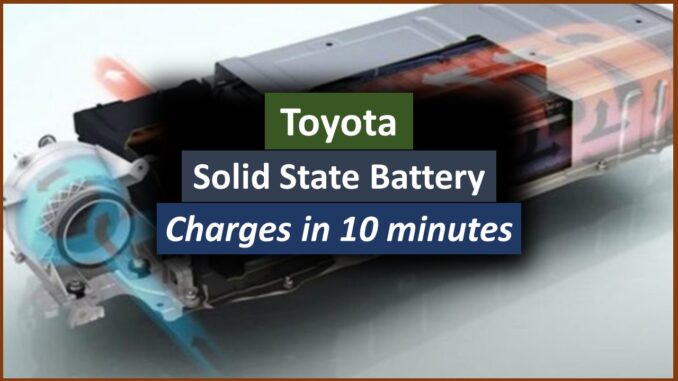 Toyota has revealed its hopes of producing a solid-state battery with a 745-mile range and a 10-minute charging time.
Toyota To Catch Up The EV Revolution
Despite being the world's second-biggest car manufacturer, Toyota has been constantly being criticized for not doing much to deal with the climate catastrophe. In other words, Toyota was lagging in the EV evolution. But now the Japanese giant is trying to catch up.
Toyota has revealed its hopes of producing a solid-state battery with a 745-mile range and a 10-minute charging time. The announcement was made at the annual shareholder meeting. It also added that the technology will enable fast charging from 10% to 80% capacity in 10 minutes or less.
Backed By Solid State Batteries
According to Toyota, the ambitious dream of producing a battery with a range of 745 miles and 10 minutes of charging time will be realized by simplifying the production of solid-state batteries. Toyota is planning to launch the solid-state as early as 2027. 
Toyota eventually hopes to increase the range of solid-state electric vehicle models to 746 miles (1,200 km), with the potential to go as far as 932 miles (1,500 km). 
The range is being calculated based on China's CLTC driving cycle, which is wildly optimistic compared to real-world situations. Using an estimate based on the significant discrepancy between Toyota's CLTC and EPA ratings, this 745 miles may translate to a projected EPA range in future Toyota EVs using the solid-state battery of much over 500 miles. 
As an example, people discovered that while Toyota's bZ4X is endearingly quirky, in real-world comparison, it hasn't delivered the promises made by the company.
Fast Charging: The Way To Getahead
The development of such advanced solid-state batteries that can be fast charged in 10 minutes and deliver a range of 745 miles will be a game changer for Toyota and the EV industry as well. This could take Toyota miles apart from where Toyota is now. Toyota's future solid-state battery versions may offer improvements of up to 50% in charging time and range. 
It is unclear in which model Toyota would be using the fast-charging battery. At one point the carmaker had said its first solid-state batteries would debut in a hybrid vehicle application. But we don't know whether Toyota still has that in mind.
Toyota has long been studying solid-state batteries and secured several patents as a result. The new solid-state technology alternatively will be combined with the next generation of other batteries, such as bipolar LFP (lithium iron phosphate) and a next-generation NCM (nickel cobalt manganese), with the latter offering 20-minute fast-charging and effectively doubling the range of the current Toyota bZ4X which currently achieves an EPA-rated 228 miles.
Solid-state batteries are being developed by many automakers. Nissan and Honda are placing bets on the introduction of solid-state batteries this decade. The benefits of solid-state batteries have included fast charging and stability, yet as a study from 2022 pointed out, they may not necessarily be safer.
Toyota To Revoltionize the Production Line Again
One of the biggest advancements in vehicle manufacturing  was propelled by Toyota's innovative production lines in the twentieth century. Now, along with the fast-charging battery, Toyota has revealed several other strategies to help the company adapt to the electric age.
These include, 
Innovative manufacturing techniques to cut costs.
Improving vehicles' aerodynamics using hypersonic technology.
Few adjustments to attract customers, especially to the EV segment.
As part of innovative manufacturing techniques, Toyota would use Giga casting to create a slim and thin car body construction to make sure its future EVs are profitable. The core idea behind Giga casting is to streamline production by lowering the number of parts required to assemble a car.
Toyota will also install technologies like a self-propelling production line which enables mass-produced automobiles to move down the assembly line on their own. Toyota hopes to reduce factory investment, manufacturing lead times, and factory costs for mass-produced EVs by 50% as a result of these innovations.
For its electric vehicles, the Japanese manufacturer is also researching cutting-edge technology that can lower drag, like the hypersonic technology used in rockets. Reducing the drag will increase the range and comfort of the ride.
You May Also Like