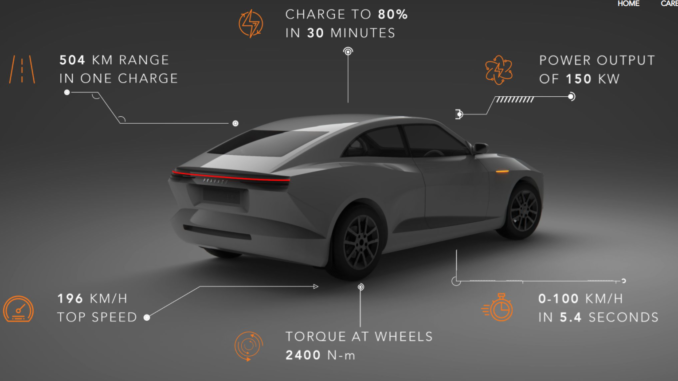 Tata, Mahindra, Hyundai, etc. have introduced electric cars to the Indian Market. Tesla is also planning to sell electric cars in India. Startups are also tapping the potential of electric mobility and they are growing in the market.
Extinction MK1 is a made in India Luxury car from Pravaig Dynamics that offers you a range of 504 km on a single charge. Moreover, the car promises you five-star safety.
Here are the details of this all-electric luxury car from Pravaid Dynamics.
Pravaig Dynamics Extinction MK1
Unlike current players, Pravaig Dynamics has set its sights on the fleet and hotel industry, where it sees its EV playing the role of a luxury transport option.
They are focusing on the corporates and as a result, they would not invest much in the sales and service network. The company is planning to reach out to prospective customers. Pravaig Dynamics will not sell the cars to the customers but essentially provide them for a lease. The costs include the car's lease and energy consumed. In addition to this, the user can opt-in for vehicle service charges as well.
Car leasing is already a business model in India that Tata Nexon EV follows along with the normal selling of the cars. The pricing for Pravaig Dynamics Extinction MK1 is not yet known.
Coming to the vehicle details, the highlight of the car will be the interior design. The car will have a fully extendable rear seat that could provide you a near-lie-flat rear experience. The company says that the car will not have a fixed interior common for everyone. Rather the company could make the design according to the customer's requests.
From the prototype model that they have unveiled, the vehicle seems to be a two-door four-seater car.
Technical Specifications of Pravaig Dynamics Extinction MK1
The following image shows you the important technical specifications of this electric car.
If everything goes right Extinction MK1 could be a unique product and approach in the Indian electric vehicle market.
Don't forget to share this post with your friends and follow us on Facebook, LinkedIn, Twitter, Instagram, and YouTube!
You may also like