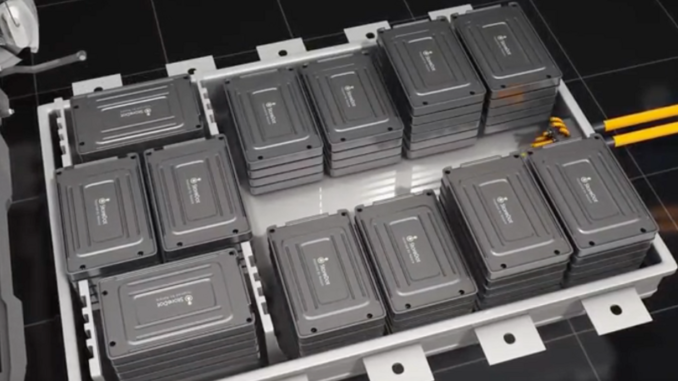 German luxury vehicle manufacturer BMW has announced that it will deepen its partnership with solid-state battery developer Solid Power, including the incorporation of a prototype production line in its own facilities and the production of a demonstrator vehicle that uses a solid-state battery pack before 2025.
BMW has been working with Colorado-based Solid Power since mid-2021 when it led a Series B fundraising round alongside Ford.
This was followed by a series of joint partnership agreements between BMW and Solid Power, including one signed last December that granted BMW a research and development license to Solid Power's all-solid-state cell design.
Solid Power, a battery developer supported by Ford and BMW, is focusing on replacing the standard liquid electrolyte in its battery design with a sulfide-based solid electrolyte, with the same goal of giving a smaller battery and higher energy density than traditional lithium-ion battery designs.
BMW stated that Solid Power intends to deploy full-scale vehicle cells for testing this year. The two companies' joint development agreement has also been expanded, allowing BMW to create a prototype line in its Cell Manufacturing Competence Center (CMCC) in Parsdorf, near Munich.
This expanded partnership will allow BMW and Solid Power to conduct cell development and manufacturing activities at both firms' facilities.
Prior to the launch of the prototype manufacturing line, BMW Group personnel will collaborate with the startup's engineers to fine-tune cell manufacturing methods. According to the carmaker, a demonstrator vehicle equipped with a solid-state battery would be available before 2025.
"Expanding our cooperation with BMW demonstrates that both companies believe in Solid Power's technological growth and the potential of solid-state batteries," said David Jansen, Solid Power's interim CEO, and president.
Solid-state battery for EVs
All the big players in the automotive industry are enthusiastic about the development of solid-state batteries as Mercedes-Benz is funding solid-state company Factorial Energy, which is based in Boston and is also backed by Stellantis and Hyundai, as well as solid-state developer ProLogium.
However, BMW's Neue Klasse EVs, planned for 2025, will not benefit from solid-state technology right away. BMW's plan is to debut the latest generation of cylindrical lithium-ion cells, termed Gen6, in Neue Klasse cars, offering a 30% increase in the WLTP cycle range. So, according to BMW, solid-state batteries aren't quite around the corner, despite the fact that the carmaker will begin testing them in prototypes later this year.
"The new BMW round cells come with a diameter of 46 millimetres and two different heights of 95 mm and 120 mm," the automaker said in regard to its next-gen lithium-ion cells. "Compared to the prismatic cells of the fifth BMW battery cell generation, the cell's volumetric energy density will improve by more than 20 per cent."
However, BMW has not stated when we would see solid-state batteries in its production vehicles, including the Neue Klasse models. BMW anticipates that battery-electric models will account for 50% of its sales by 2030, but whether the majority of them will be next-generation lithium-ion designs or solid-state compositions remains to be seen. BMW is well aware that other automakers want to be the first to provide this technology in their vehicles.
However, Solid Power has a more precise estimate, saying that it aims to increase its electrolyte production to power 800,000 vehicles yearly by 2028.
"BMW remains committed to the pursuit of all-solid-state batteries, a technology which we believe has significant potential for the future," said Frank Weber, a member of the Board of Management for BMW, Development.