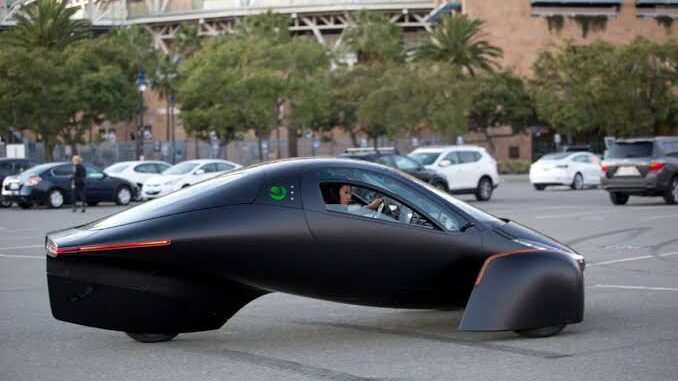 What if there is a vehicle you don't have spent a single penny for fueling… guess what there is Aptera Solar Car.
Aptera is an audacious startup with a vision to change the face of E-mobility forever. The company aims to eliminate the stratification in the EV sector by building affordable solar-powered Electric cars.
Now you got an idea about the specifications and the promises Aptera makes, Let us look into the company.
Aptera's Initial Fails
Steve Fambro and Chris Anthony founded Aptera in 2006, two years before Tesla began selling its Roadster. The two devised a futuristic picture of what one should be: light, ultra-efficient, and futuristic.             
The founders came up with a futuristic design kind of ones we imagine for what 2100 will look like etc. The vehicle they came up with was a 3 wheeler (still it's a 3 wheeler though they tried 4 wheelers as well).
In December 2008, Aptera's financing application for the Advanced Technology Vehicles Manufacturing (ATVM) funding program was denied by the Department of Energy. Because when it came to financing, electric vehicles were still seen as more of a scientific experiment than a proven product. So the program appeared like one of the safest bets a tiny firm like Aptera could make.
Also, the company made a couple of bad decisions as well.
Investors tore apart Aptera for the bits and pieces and the start-up considered dead.
Revenge Of The Fallen
The new Aptera has more contemporary features. On Aptera's dashboard, there is a huge Tesla-style touchscreen. The vehicle will have motors built into the wheels for conserving space and weight. Another key premise is that it would be affordable, with a price range of $26,000 to $50,000 on the low end and closer to $50,000 on the high end.
Aptera's Funding Plans
In 2019, the start-up resorted to WeFunder, a crowdfunding platform that allows consumers to contribute to a company in return for tiny stock holdings. Aptera raised $200,000 on WeFunder in 2019 and nearly quadrupled that amount in 2020. Then, in early 2021, they secured a $4 million Series A investment round, which included some private money.
The Design
According to the photos and spec sheet, the car looks like a plane without wings, with a drag coefficient of 0.13 (by contrast, Tesla's Model 3 has a drag value of 0.23, and Volkswagen's ID 4 electric SUV has a drag coefficient of 0.28). Its front-wheel-drive car can go from zero to 60 mph in 5.5 seconds, while its three-wheel-drive car takes 3.5 seconds.
Aptera Solar Car will outperform when it comes to drag because a vehicle's 60% of energy is used for counteracting the resistance by air in the usual case.
Aptera Solar Car's Promising Specs
According to the makers here are the specs for the vehicle
Overall Length: 172 in Width: 88.0 in and Overall Height: 57 in.
Cargo capacity: 25 cubics. ft. volume.
Acceleration: All wheel drive @ 150 kW 100 kWh as quick as 3.5 sec, Front-wheel drive @ 100 kW Top Speed as quick as 5.5 sec
Top Speed as quick as 5.5 sec 0.-60 mph 100+ mph
Aptera solar car comes with 3 range options,
A whopping 1000 Miles range with 100kWh battery (Paradigm Plus Model)
600 Miles range with 60kWh battery
400,250 Miles range with 40 and 25 kWh batteries respectively
And when it comes to harvesting solar power Aptera outperforms all others in the industry,
Never Charge Solar array in ~3 square meters/ 700 watts. 
The car self-charges up to 60 kM while simply being parked.
Solar can be added to Aptera's hood and Rear Hatch for up to 24 miles of additional free solar charging per day
The initial versions will be named Paradigm and Paradigm+, though it's unclear whether this is the name of the car or just the trim levels. There's an interesting model with higher ground clearance, harder wheel fairings, and an integrated tent and awning, demonstrating that the Overlanding obsession has reached every part of the transportation realm.
The Compromises
To get that level of efficiency and range, you'll have to give up a startling number of things. The car is compact and light and believes it will pass all crash testings. That's fantastic, but in a collision with a larger vehicle, some factors will put passengers in a light car at a disadvantage.
And when it comes to solar charging,
These are ideal statistics, assuming the car is constantly parked in the sun and never drives long distances. 
It is always better to install solar panels on your house or in a solar farm than it is to put them on your car in terms of decreasing emissions.
Conclusion
Hope we have covered all the aspects of the upcoming Aptera solar car and the promises the team shares. But as we have discussed in our solar cars, there are several pitfalls in making a car entirely run by solar energy.
Aptera has a handful of obstacles to get success,
The design yet promising and futuristic still has to gain confidence when it comes to safety and reliability.
Convincing the government body to approve the funding.
Gain confidence from the people 
Few EV pioneers like Elon Musk believe that it is absurd to put solar panels into a vehicle. But who knows? for many people, his ideas were absurd in the beginning.