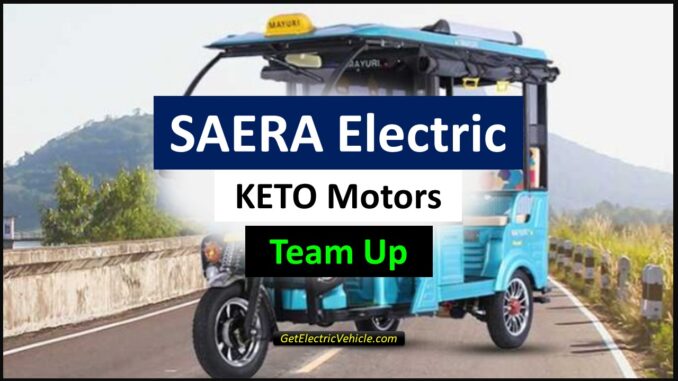 The market of Electric 3-wheelers in India is expanding at a great pace and witnessed sales of over 300,000 units and a 79% YoY increase in the first seven months of CY2023. 
To win this game, companies in the industry are teaming up and pooling resources to outperform their competitors. The most recent such move from the industry is a joint venture between Delhi-based Saera Electric Auto and Telangana-based Keto Motors of the ETO Motors Group.
Saera Keto EV: Teaming Up To Take It All
The new company is called Saera Keto EV Pvt Ltd and is focused on capitalising on each company's primary capabilities to create synergistic results. With its L3 range (e-rickshaws), Saera Electric is the third-ranked electric three-wheeler OEM for the period of January to July 2023, whereas Keto Motors is well-known for its L5 range for passenger- and cargo-transportation uses.
The partnership is poised to have a significant impact on the EV market by combining Keto Motors' expertise in designing and producing the L5 range of Electric Three wheelers for passengers and cargo with Saera Electric's proficiency in designing, manufacturing, and retailing a diverse range of L3 Electric three-wheelers.
Saera Keto EV: The Manufacturing Facilities
Their facilities in Telangana and Haryana will work together to create high-speed electric passenger and freight vehicles. The two OEMs have set forward intentions to provide six new and competitively priced products by January 2024. The joint venture wants to push for 80% electrification of the 3-wheeler and 2-wheeler fleet by 2030 and help in achieving India's ambitious emissions reduction targets.
The plant for Saera Electric Auto is situated at the former Harley-Davidson site in Bawal, Haryana, and has a current production capacity of 100,000 three-wheelers per year. The Keto Motors factory is situated at Jadcherla Telangana, with an in-house R&D facility.
Saera Keto EV: What To Expect
The E-3 wheelers from the brand are designed to provide safety and comfort for both passengers and the driver. The E-3wheelers will be capable of fast charging(Details are yet to be revealed) and to ensure the smooth and safe operation of the vehicle the models will have a Vehicle control unit(VCU).
The strategy is such that Saera Keto EV will build a network of more than 100 dealers across India and increase to 250 dealers within a year. This plan guarantees L5 electric vehicle accessibility in significant metro cities as well as Tier 2 and Tier 3 cities.
High-speed electric passenger and freight vehicles will be among Saera Keto's options, demonstrating their dedication to providing cutting-edge and effective transportation solutions.
What is L3 Vehicles and L5 Vehicles
A special purpose battery-powered vehicle with three wheels and designed to provide last mile connection for the transportation of passengers for hire or reward is referred to as an 'e-rickshaw' or L-3 vehicle.
Some of the key features of the L-3 wheelers are,
Small, three-wheeled electric rickshaws propelled by electric motors ranging 900–2000 Watts of power.
They can be employed as load carriers or as passenger cars. According to Central Motor Vehicle Rules (CMVR) – Rule No. 126 of ICAT, a vehicle may have a seating capacity of 4+1 or a load-carrying capability of up to 310kg.
E-rickshaws have maximum dimensions of 2800x1000x1800 mm (LxWxH) and a top speed of 25 kmph.
Whereas, If a three-wheeled motor vehicle is equipped with an electric motor and has a top speed of more than 25 kmph or motor power of more than 0.25 kW, it is classified as category L5. The vehicle will be used for carrying people or carrying goods. Additionally, L-5 is divided into two subcategories, L5N and L5M, for passenger vehicles and goods careers, respectively.
Some of the key features of the L-5 wheelers are,
L5 vehicles have much more power and weight-carrying capabilities. 
Compared to E-Rickshaws, L-5 vehicles are faster.
The vehicle's maximum LxWxH dimensions are 4000x1600x2500 mm, and its maximum weight is 1500 kg.
L-5 vehicles have a range of 150–200 km and are outfitted with cutting-edge technology including CAN-based BMS, liquid-cooled battery pack, high-performance motor for more gradeability, GPS monitoring and control, etc.
Conclusion
This new trend of coming together to win the game in the EV sector will accelerate the realisation of "Electric Mobility as a Service" and actively advance India's goal of electrifying both the first and last leg of transportation. It also supports the nation's larger ambition of mass adoption of green mobility.
You May Al.so Loke