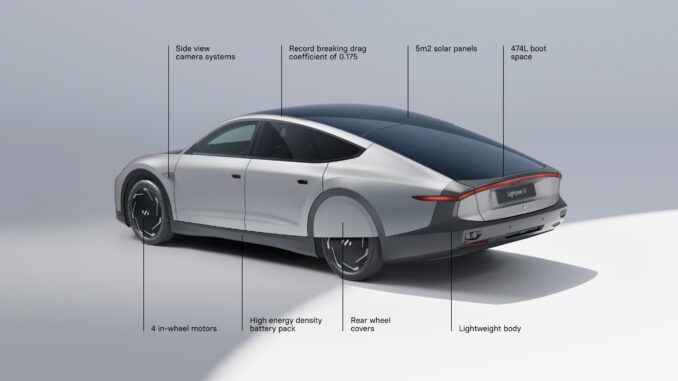 Dutch automotive startup Lightyear made headlines again in a couple of dramatic events earlier this year.
In December 2022, the Dutch automaker Lightyear made news worldwide by revealing that it had started producing the first solar vehicleavailable for purchase: the Lightyear 0. 
Immediately after that in January 2023 the company declared that it would no longer produce the Lightyear 0 and it would concentrate on producing the Lightyear 2, a vehicle that it claims will cost around $40,000 and go into production in late 2025. According to the company, this is a result of a "strategic restructuring," 
The Lightyear 0
The Lightyear 0, unveiled in 2019 was a ground-breaking design that could cover 43 miles per day only on energy from its five square metres of solar panels. But the car would cost you more than a quarter of a million dollars to own. 
The expectation was that an ordinary driver in sunny countries like Spain or Portugal who travels 35 kilometres (22 miles) each day could use the car for seven months before needing to charge it by plugging it into any charging ports and in colder countries like the Netherlands, it might survive for two months without charging conventionally.
Some key features of Lightyear 0 were, 
In ideal conditions, Lightyear 0 can power itself with an additional 70 kilometres of range each day 
It has a projected 625 kilometres of WLTP range.
The four-wheeled car is five metres long and 1,575 kilograms heavy 
It has a top speed of 160 kilometres per hour and can hold five passengers.
The body of Lightyear 0 is constructed from recycled carbon fibre and aluminium panels. 
Lightyear 0 sports four cameras instead of mirrors: two side cameras, one for parking, and one for the rearview.
The vehicle's overall drag coefficient is less than 0.19. ( A vehicle with a low drag coefficient may travel further because it uses less energy)
Lightyear 0's interior is constructed of vegan and organic materials, including eco-friendly microfiber suede seats and rattan palm trim.
Sounds great right?…
Unfortunately, we cannot buy one of these for at least a few years from now as the company did not say anything about its plan with Lightyear 0.
The model was one of the first EVs with solar power capabilities to enter production, though it's unknown how many the company produced; the plan was to produce 946 Lightyear 0s.
But what about Lightyear 2? Is it sexier than the Lightyear 0, Let us check
The Lightyear 2
Lightyear declared bankruptcy in January and came out of it in February declaring that it would only produce the Lightyear 2, a more practical model with a price tag of about $40,000.
The company claims that the Lightyear 2, which was announced at CES this year, would "inherit all the innovations of Lightyear 0 at a fraction of the market price." and is intended for a completely new market.
This stylish solar electric vehicle will have an impressive range of roughly 500 miles between charges. Lightyear claims that this new model will need only one-third as much charging as existing EVs because of its aerodynamic and lightweight construction.
Some opponents of EVs would always counter that EVs aren't a green choice because the electricity required to charge them frequently originates from unclean energy sources. 
However, the Lightyear 2 is expected to have a carbon footprint that is less than half that of conventional EV models since so much of its energy comes from the sun.
Bloomberg claims that the Lightyear 2 should be available in the market within the next three years, ushering in a brand-new age of environmentally friendly transportation but specific release dates are yet unknown. You can express your interest in acquiring the second-generation model because Lightyear has made the waitlist available.
Conclusion
Here a thing to be noted is that the prices will continue to decline as more companies start making EVs, a trend that is expected to apply to solar EVs as well. But the initiative is now in your hands if you're eager to own the first (relatively) inexpensive car of the future.
You now possess a stylish, effective, and most importantly, reasonably priced solar EV. It also uses a lot of the Lightyear 0's technology, some of which has even been improved in some places.
On paper, the Lightyear 2 appears to be all great and too good to be true, but will it see the light of day? Let us see…
You May Also Like