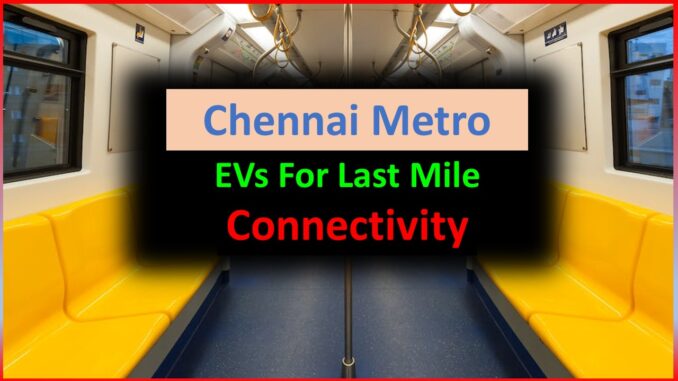 Encouraged by the positive reaction to the recent launch of E-rickshaw and minibus services from select stations, Chennai Metro Rail Ltd. plans to expand these services to other stations as well.
Expanding To A Greener Tomorrow
Chennai Metro Rail is creating a plan to deploy more Electric vehicles to their stations to improve last-mile connectivity. Though the idea has been in the works for quite some time, it appears that it will soon become a reality. 
Earlier, CMRL had introduced E-Rickshaws and Minibuses for the last mile operations in a few of Chennai Metro's stations. After witnessing the surge in the number of people utilizing the E-Mobility options, CMRL decided to strengthen the operation.
Putting the Needs of Passengers First
Currently, The Metropolitan Transport Corporation (MTC) provides minibuses from
Little Mount, Alandur, Thirumangalam, Chennai airport, Tiruvottiyur, Government Estate, Koyambedu, and Shenoy Nagar. Buses from Thirumangalam and Chennai airport are the busiest during peak hours, and passengers feel there is an urgent need to expand the fleet of buses and auto rickshaws from these two terminals.
The expansion plan will combine electric and shared auto rickshaws to meet the needs of passengers. While a small number of electric auto rickshaws are currently in service, the fleet will be expanded on a bigger scale. 
The project entails collecting the proper government registrations and clearances, though there are some exceptions of the low capacity electric vehicles. The CMRL team is hard at work on the project and is in talks with the government to get the necessary approvals.
It's A Win-Win
Deploying EVs for last-mile connection is consistent with CMRL's commitment to supporting sustainable and environmentally friendly transportation options. CMRL's embrace of electric transportation promises to improve more than just commuter convenience. However, it also helps to reduce carbon emissions and prevent air pollution.
On the other hand, providing centralised and sustainable last-mile connectivity will increase the passenger onboarding of the metro itself. Often the difficulty in getting to the metro station and getting out of the metro station is preventing people from using metro rail.
If someone could get to the metro station at a reasonable price, more people would choose the metro as their primary mode of transportation.
Conclusion
The decision by CMRL to expand its last-mile connection services using electric vehicles is a constructive step forward in urban transport. CMRL aims to change the way people move inside the city by providing efficient, green, and dependable solutions for commuters.
Residents of Chennai may look forward to a more connected and sustainable future as the project gets speed and clearances. Which is power via electric mobility efficiency.
You May Also Like