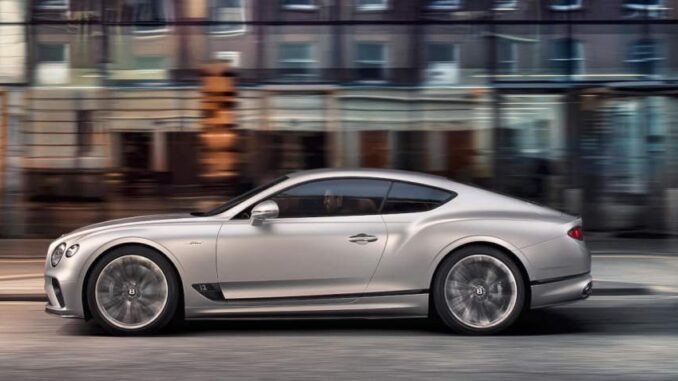 The British luxury car manufacturer Bentley has pledged to become carbon neutral by 2030 and planning to release their first electric vehicle in 2025.
Bentley Motors has revealed that their first electric car will be rolled out of the factory in 2025 and will be designed and manufactured in their Crewe plant as part of their Beyond100 strategy. Bently has also launched a new initiative called the Five-in-Five plan, which calls for the company to release a new electric vehicle every year from 2025 through 2030. Bentley's historic Crewe facility, which produced its first vehicle over 75 years ago, will now be used to produce electric vehicles.
The Dream Factory
A significant move taken by the British car manufacturer is a $3.4 billion investment in their Crewe plant situated in England. While the plant reached carbon-neutral manufacturing in 2019, Bentley hopes to transform it into a Dream Factory and decrease its environmental effect even more. 
The investment will transform the old World War II-era Crewe site into a highly sustainable center for modern luxury automobiles with a high degree of customization. According to the new strategy, 4000 jobs would be secured in Cheshire.
Crewe has previously stated that in a decade, there would be no ICE-powered cars in its lineup. The 2018 Bentayga and Flying Spur's plug-in hybrid (PHEV) variations are the initial steps toward full electrification, with the first battery-electric vehicle (BEV) arriving in 2025 and all models having some type of electrification the following year. 
The number of solar panels on-site will expand from 30,000 to 40,000 in the next two years as part of the revised plans. Bentley promises to keep water usage, trash to landfills, and other environmental consequences to a bare minimum for all vehicles made in Crewe until 2030.
Actions Speak Louder
Bentley is taking further initiatives, such as utilizing sustainable biofuel in fleet cars and pushing its suppliers to become carbon neutral, in addition to unveiling new EVs and making their production process more sustainable. The 2022 Flying Spur PHEV and five new Bentayga PHEV versions were recently unveiled by the British automaker and according to tp the company, Hybrid automobiles are expected to account for more than 20% of their sales this year.
"Simultaneously accelerating our Beyond100 strategy and securing BEV production at Crewe, alongside a £2.5 billion investment, makes this a major landmark in Bentley's 102-year history. It is a shining light for the Bentley family, our suppliers, and partners, as well as the automotive industry and UK manufacturing as a whole."
-Adrian Hallmark, chairman, and CEO of Bentley Motors
But, Bentley's electrification ambitions have been extremely inconsistent, favoring all-electric vehicles at first before changing to plug-in hybrids. The Bentayga Hybrid SUV, which debuted in 2020, was the company's first plug-in vehicle. Since then, a plug-in hybrid version of the Flying Spur sedan has entered the lineup. The only cars in the current Bentley portfolio without plugs are the related Continental GT coupe and convertible.
What can we expect?
Well, We'll have to wait for further information on the new models, but Bentley's head of engineering Matthias Rabe said in an online news conference that each will be "a whole new car, a completely new type." Given that the company currently only offers four models 'the Bentayga SUV, the Flying Spur sedan, and the Continental GT coupe and convertible' the basic math suggests that the entire family will be effectively replaced by fully electric vehicles sooner rather than later and that a new model will be added to the lineup.
We may fairly assume that these new electric cars would share fundamental technology with other high-end models in the Bentley family since we expect the next-generation Porsche Cayenne will feature an EV variation, which would be a natural base for a Bentley sister. Lamborghini's progress toward electrification appears to be on par with Bentley's, implying some obvious synergies.
What's the most important news? There will be no combustion engines in any Bentley-badged car by 2030 or the revamp of the electrification strategy…
Well for me personally, the first one would be important…