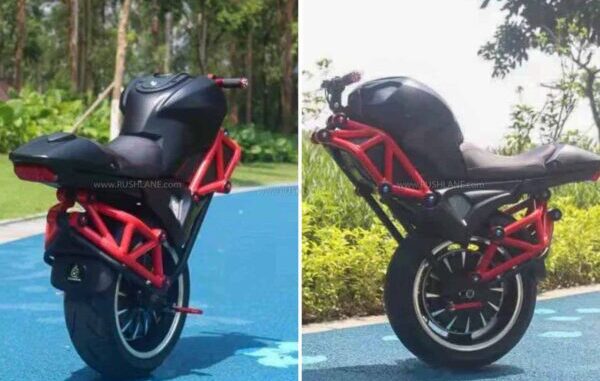 We have been continuously talking about the perks and advantages Electric vehicles bring to the table such as, being environment friendly, cost-effectiveness, less maintenance, etc and we all are familiar with these advantages electric vehicles have over conventional gasoline-powered vehicles.
In this article, we are going to discuss another impressive aspect of electric vehicles that is 'The flexibility an electric vehicle offers in design' and one of its weird manifestation The 'One wheeled electric bike' by Chinese E-commerce giant Alibaba.
The flexibility an EV offers while designing
A conventional IC engine powered vehicle is an engineering marvel no matter how cheap the car is. The fuel injection system the lubrication system, gears, exhaust system etc are of great complexity and requires precision crafting and constant maintenance. If not taken care properly, the mechanical marvel can be a mechanical mess. Incorporating these necessary parts and systems into a car economically and aesthetically is a challenge and there will be design constraints to make a gasoline-powered vehicle however you want.
An electric vehicle can offer great flexibility in design because,
For an electric vehicle, there is only a  limited number of mechanical parts.
The battery and the motor are the main parts of an EV and both are single units.
An Ev doesn't require a complex gear system as a gasoline-powered vehicle.
The weight of an Ev is pretty constant while the weight of a gasoline vehicle's weight changes depending upon the fuel level (It may sound silly but it has a vital role when it comes to dynamics and CG.) 
Alibaba's Single Wheel Electric Bike
Alibaba's Single wheel Electric Bike is a classic example of the design flexibility being exercised. Companies are now introducing new models in response to the high demand for electric vehicles on the global market. Alibaba Group, China's largest e-commerce company, has now launched an electric bike with just one wheel. This bike has a 100-kilometre driving range on a single charge. The battery takes 3 to 12 hours to fully charge.
Alibaba is already a player in the electric vehicle industry, and it recently announced a collaboration with SAIC to unveil a new electric vehicle with wireless charging.
The Design 
Looking at a photo of this bike on the internet, it appears that it has been fitted with a steel trellis frame. Aside from that, it has a fuel tank that is inspired by the Ducati Monster's style. Although it has a back seat, the function is unknown.
The Design of the one wheel Electric bike by Alibaba consists of,
The one-wheeled electric bike features a Steel Trellis frame and a fictitious fuel tank.
It does not have a front end.
It seems there are few gauges in it.
Performance and price
This electric monocycle can reach a peak speed of 30 miles per hour thanks to its hub motor, which produces nearly three horsepower.
Other performance aspects are,
This electric unicycle, according to the maker, has a range of 35 to 60 miles on a single charge.
It takes 3-12 hours to fully charge this electric vehicle.
This bike is much lighter than other bikes, weighing just 40 kg.
This fancy bike starts at $1,800 and goes up to $2,800 depending on where you buy it from around the world.
Conclusion
Alibaba claims that these vehicles are meant to be used in urban roads with fewer distances and heavier but slow traffic. But the machine rises few practical and safety-related concerns to one who looks in the design unbiased. My take in this new initiative from Alibaba is to catch the public eye and make a statement to the public that they are into the Electric vehicle market and they have some huge projects under the hood if it was their goal I would say that they have achieved it.
You can buy one for yourself if you can afford this pricey toy and the expenses which come after you bought it !!.
You may also like