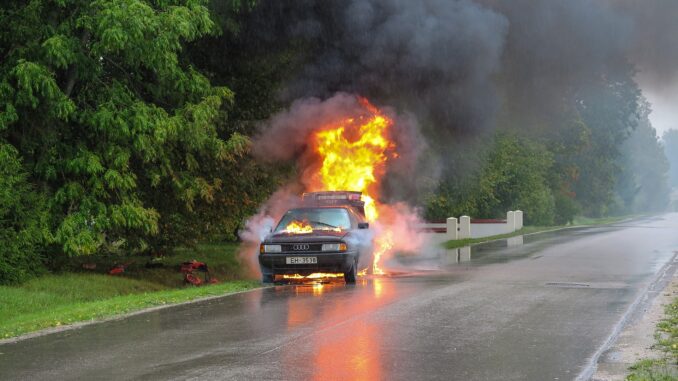 The National Transportation Safety Board's head raised her concern about the safety and dangers posed by large electric vehicles in collisions with lighter vehicles. 
Jennifer Homendy, the head of NTSB highlighted the matter in a speech to the Transportation Research Board in Washington. She mentioned that an electric GMC Hummer weighs about 9,000 pounds (4,000 kilograms), with a battery pack that weighs 2,900 pounds (1,300 kilograms) on its own which is roughly the weight of a regular Honda Civic.
"I'm concerned about the increased risk of severe injury and death for all road users from heavier curb weights and increasing size, power, and performance of vehicles on our roads, including electric vehicles," Homendy said in remarks prepared for the group.
Homendy expressed that she is optimistic about the Biden administration's intentions to reduce carbon emissions from vehicles to address the climate catastrophe. However, she expressed concern about the safety dangers posed by the growth of EVs on roads and highways.
"We have to be careful that we aren't also creating unintended consequences: More death on our roads," she said. "Safety, especially when it comes to new transportation policies and new technologies, cannot be overlooked."
Homendy pointed out that Ford's F-150 Lightning EV pickup is 2,000 to 3,000 pounds (900 to 1,350 kg) heavier than the combustion version of the same model. She claims that the Mustang Mach E electric SUV and the Volvo XC40 EV are around 33% heavier than their fuel versions.
"That has a tremendous influence on all road users' safety," Homendy noted.
The NTSB examines transportation accidents but has no regulatory authority. The National Highway Traffic Safety Administration has primary jurisdiction over cars.
Aside from EVs, the country's roadways are clogged with heavy vehicles, owing to a decade-long surge in sales of larger cars, trucks, and SUVs, which has resulted in extreme mismatches in crashes with smaller vehicles. However, electric cars are often heavier than even the largest gasoline or diesel-powered trucks and SUVs.
Michael Brooks, executive director of the nonprofit Center for Auto Safety, expressed concern about the weight of EVs because purchasers appear to be seeking a range of 300 or more miles per charge, which necessitates heavy batteries.
Setting up a charging network to accommodate that may be a mistake from a safety perspective, Brooks said.
"These bigger, heavier batteries are going to cause more damage," he said. "It's a simple matter of mass and speed."
According to Brooks, there has been little research on the safety risks of rising vehicle weights. The National Bureau of Economic Research produced a report in 2011 stating that being hit by a vehicle weighing an additional 1,000 pounds raises the likelihood of being killed in a crash by 47%.
His other concern was that electric vehicles have extremely high horsepower ratings, allowing them to accelerate swiftly even in congested urban settings. "People are not trained to deal with such rapid acceleration. It's just not something that drivers are used to doing, "Brooks stated.
Furthermore, many contemporary electric SUVs are tall with restricted vision, posing a risk to pedestrians or drivers of smaller vehicles, according to him.
The concerns raised by the officials have to be taken seriously since new electric car sales in the United States increased about 65% last year to 807,000, accounting for around 5.8% of all new vehicle sales. Also, the Biden administration has set a target of having EVs account for 50% of new vehicle sales by 2030 and is offering up to $7,500 in tax credits to help them get there. LMC Automotive, a consulting group, has issued a more moderate prediction: EVs will account for one-third of the new-vehicle market by 2030.
You may also like