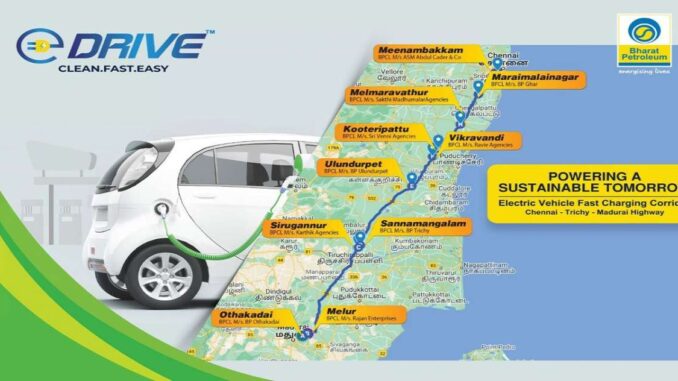 Bharat Petroleum Corporation Limited is a government-owned oil and gas company. It is a 'Maharatna' and Fortune Global 500 company. They operate more than 20,000 energy stations across the country.
The growing number of electric vehicles makes them think of other businesses. BPCL is also pitching into the electric vehicle charging station industry.
Number of chargers
It has launched 19 EV fast-charging corridors at its 110 fuel stations along 15 Kerala, Karnataka, and Tamil Nadu highways. Those chargers are of a power rating of 30kW.
We can find 3 corridors with 19 stations in Kerala, 6 corridors with 33 stations in Karnataka, and 10 corridors with 58 stations in Tamil Nadu.
So far, the company has converted 21 highways into electric corridors and will cover 200 highways with fast chargers to accelerate EV adoption in India.
What BPCL Says?
"It takes just 30 minutes to charge an EV, giving the driving range of up to 125 kilometers at our Fuel Stations, therefore we have maintained the distance within 100 kilometers between the two charging stations," said Pushp Kumar Nayar, Head of Retail South at the launch.
Connects important destinations
The developed charging station corridors will connect the country's important religious and tourist destinations. In the earlier phases, electrification of the highways to the tourist and religious locations with a lot of traffic would be a better option.
Other facilities at charging stations
Electric vehicle charging is something different than IC engine vehicle fuel filling. It requires a little more time than fuel filling. So, the charging stations should be designed so that the passengers can spend charging time for some other activities such as having food.
The BPCL charging stations offer clean toilets and restaurants.
The fast chargers are easy to use and self-operated without any manual assistance. Although the support staff would be available if needed.
Digitally connected
The whole process of locating EV chargers, handling the charging operation, and transactions are digitized via the HelloBPCL mobile application. The users may locate the charger, check the availability, and make payments through the App.
Conclusion
It is a visionary step to expand the business of BPCL to include the futuristic electric vehicle industry. The electric vehicle charging station would definitely be necessary as the faster adoption of EVs happens in India. It could be easier for petroleum companies to install charging stations at their fuel stations since space and other facilities are available.
You May Also Like