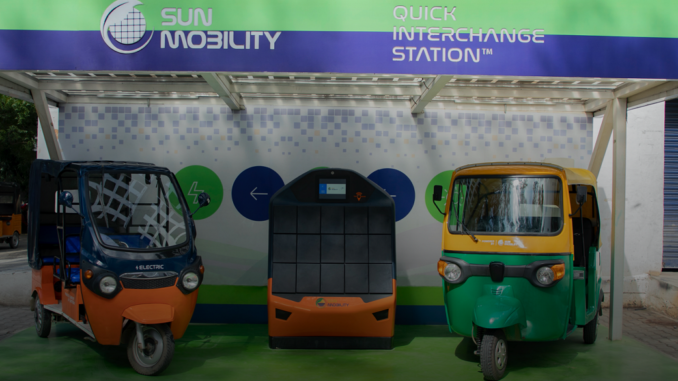 SUN Mobility is using Microsoft's Azure Cloud along with other cutting edge technologies to produce Cloud-connected swappable batteries to help the country get on the road to the future.
The batteries and swap stations are connected to the cloud via Microsoft Azure and a variety of built-in technologies such as Azure IoT Hub, Azure Data Factory, CosmosDB, and Azure Databricks, among others, which send battery performance telemetrics back to SUN Mobility.
Customers can also use an app that connects to their EV's battery and provides real-time information on the battery's performance as well as the nearest swap station if the battery runs out.
"We have stations, batteries, and customers that are connected to us. There are over 150 data points coming into our system from each battery," 
-Chetan Maini, founder of Bengaluru-based startup SUN Mobility.
From Raw Data to Valuable information
SUN Mobility can determine battery usage, the most frequently travelled routes, and peak hours and many other valuable pieces of information by processing the data collected. The technology can estimate possible demand using AI and machine learning methods and it can not only optimise its existing network of battery switching stations but also plan the location and feasibility of future stations more effectively and strategically.
SUN Mobility has signed ten original equipment manufacturing (OEM) agreements so far, allowing automakers to utilise their battery technology. Piaggio Commercial, an Indian affiliate of the Italian automaker that produces autorickshaws, and Ashok Leyland, India's second-largest manufacturer of heavy commercial vehicles such as buses and trucks, are among them.
The startup currently operates a 65-station battery-swapping network in 14 cities and will be expanding its footprint by setting up over 500 swap points by the end of 2022. Currently, with 65 swap points across 14 cities in India, Sun Mobility has powered over 400,000 rides and over 6 million km in the country.
Sun Mobility has already formed a partnership with the Indian Oil Corporation, the country's leading oil and gas company, to install battery swap stations at its gas stations.
What exactly is Azure?
Azure is a public cloud computing platform that offers solutions such as Infrastructure as a Service (IaaS), Platform as a Service (PaaS), and Software as a Service (SaaS) for services including analytics, virtual computing, storage, networking, and more. It can be used to supplement or replace on-premise servers.
Microsoft Azure's scale, flexibility, and security make it an ideal resource for businesses looking to implement IoT solutions. You may start gathering fresh data about your firm by connecting your devices to the cloud utilising technologies that integrate with your existing infrastructure.
You can monitor and manage billions of devices and receive insights using the Azure IoT Hub to help you make better business decisions, improve customer experiences, reduce complexity, save costs, and accelerate development.
Data for Maximum Output
In the modern world, the days are filled with opportunities to win big and at the same time, there can be pitfalls as well. Thus making the right decision at the right time is very crucial for any company and especially for startups since a wrong decision might bankrupt the entire firm.
In such scenarios, data can be very helpful because it can give accurate insightful information once it is processed properly.
"We always knew that the future would be on data, cloud, and analytics, and we had to rethink how we would look at a platform and we felt that Microsoft was the kind of company we wanted to work with," said Maini who founded the Reva Electric Car Company way back in 1996.
"It was talking of sustainability, looking at data at scale, talking of making an impact, and was creating platforms. All of that resonated with our long-term vision," he added.