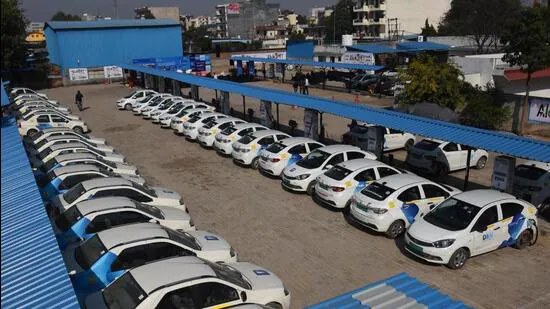 India's biggest EV charging station opened its doors in Sector 86 in Gurugram with 121 four-wheeler charging ports.
Now, two of the biggest electric vehicle charging stations in India are located in the city. The first EV station, with a capacity of 100 charging stations, opened earlier in January in Gurugram's Sector 52.
A Capacity of 1000 Cars/Day
The charging station was built by Alektrify Private as part of the Ease of Doing Business initiative. The station can charge 1,000 cars in a single day thanks to its 75 AC, 25 DC, and 21 hybrid charging outlets.
An electric car with a charging time of 6 hours may be charged four times in a day using the AC charger. 95 of these chargers can power 570 automobiles daily at the charging station. The fast DC charger, meanwhile, can charge up to 24 vehicles every day and takes an hour to fully charge an electric vehicle. There are 25 of these DC chargers at the Sector 86 charging station, and they can charge 600 electric vehicles each day.
According to the officials, NHEV's target of 30% on the highway is more than doubled by the final station's usage rate of 72%. Two such stations that would serve as the prototype for the Delhi-Agra e-highway will be built in Noida and Greater Noida over the next few months. The technical preparations and studies are completed. The proposal for leased space would be offered with the creation of the new administration in Uttar Pradesh, for which the Ministry of Power released recommendations in January 2022.
Brimming With Success
During the inauguration, Abhijeet Sinha, National Programme Director, Ease of Doing Business programme and Project Director of National Highway for Electric Vehicle (NHEV), said: "This is our second prototype station constructed in just 30 days after the Sector-52 EV charging station, 2 more stations of same size and scale will be installed in Noida within 60 days for Delhi-Agra E-Highway which will conclude the prototype modelling of E-hubs."
He said that 30 more E-Highway charging stations will be constructed within a record time of 90 days from their date of allocations to PSUs/private entities.
"These charging stations are commercially and technically competing with petrol pumps now with 72% utilisation and 36 months break even with increased capacity to charge 1,000 cars at this station and 576 cars at Sector 52 station. These simple prototypes have proved that e-highway stations of NHEV will be world-class and draw a strong commercial roadmap of E-mobility on Indian highways," he added.
Battling With Gas Stations
These charging stations were designed to compete with gas stations. Because Until now, the country has not yet installed large-scale charging stations capable of powering 1000 and 576 cars in a day. The charging stations which have registered 72% utilisation, the investment is returned in just 36 months. 
These stations demonstrate NHEV in both a technical and financial sense that large-scale charging stations are feasible and will be successful in the country. On the experimental Jaipur-Delhi-Agra e-highway, large-scale charging stations will be constructed and those stations will be of the highest calibre and will lay out the greatest national plan for electric mobility.
Sudhendu J. Sinha, Adviser, Infrastructure Connectivity & Electric Mobility, NITI Aayog, said, "NHEV has not only made a 30 days record of building largest station in size but also the most profitable station in the nation which shall include battery swapping and significant revenue amenities to compete with Diesel – Petrol Pumps earnings. I inaugurated another NHEV station by Alektrify in Sector 52 of Gurugram only 30 days back which recorded 72% utilisation and operated on 36-month breakeven tenure. This NHEV model has come up very strong among other charging ecosystems and I congratulate the NHEV team for this 2nd success and looking forward to their upcoming stations in NOIDA."
Being Future Ready
During the Most Modern Electric Charging Station event, EODB, the organising group, made a technical pilot project contribution to the Prime Minister's Ease of Doing Business programme services and also showcased the station's contemporary architecture design, the most cutting-edge among India's electric charging stations and its showpiece project in the field of electric mobility.
Its program director Sinha said, "While these semi-circular stations will be of the gold standard in environmental and green standards of construction, they neither exploit nor release any kind of pollution from the environment." 
Noted scientist, member of NITI Aayog and Chairman of NHEV Working Group, Padma Shri and Padma Bhushan awardee V.K. Saraswat, during his address at the program, described this model as an economically useful and battery swapping option in heavy and medium vehicles and NHEV to be built on the Jaipur-Delhi-Agra Green E-Highway. Also discussed are the stations to be developed shortly with the facility of filling hydrogen in heavy vehicles.
Conclusion
Now, India has two state-of-the-art large charging stations in a single city and from the success, India is planning to commission more such projects throughout the national highways. Here the thing to be noted is the 72% utilisation which is more than the expected utilisation and got the investment back in 36 months. These charging stations indicate the profitability and feasibility of such large-scale charging stations and India will have many of them shortly.